Fed Will Likely Hike Eight Times to Curb Inflation, Marathon Asset CEO Says
(Bloomberg) -- The Federal Reserve will probably lift rates eight times to tame inflation, said Bruce Richards, chief executive officer and co-founder of Marathon Asset Management. 
Tighter monetary policy will eventually bring a recession, he said during a Bloomberg Television interview on Wednesday.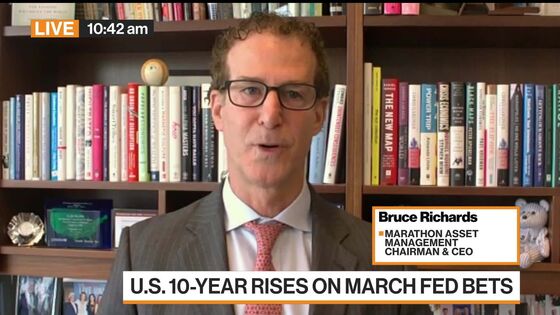 "We're going to see a deceleration of growth due to tighter financial conditions and this higher inflationary rate, that stymies the consumers' ability to spend. That's what's gonna happen in the next year," he said. 
Marathon expects U.S. economic growth to be in the range of 1.5% to 2% annualized at the end of 2022, compared with the estimated rate of around 4% for the year. But the distressed-debt specialist is not expecting to see a wave of corporate defaults soon as the economy slows, because for now many companies can pass through higher costs related to materials, shipping and labor. 
He cited window and door manufacturers his firm was following that have hiked their prices an average of 60% since the pandemic began.   
"Earnings will be up 8 or 10% this calendar year and with that companies are in good shape," he said. "It's not a corporate default rate event that happens now. Save that one for the recession." 
The recession Richards expects will probably hit in mid-2024, he said, citing a historical analysis since the Great Depression that reports an average of two years between the Fed starting to raise rates and the onset of a recession. 
"I think that every market's incredibly vulnerable from here," he said.