London's Housing Market Shows Hit From Home Working
London's Housing Market Shows Hit From Home Working
(Bloomberg) -- London private housing rents fell in July compared with a year earlier as the ability to work from home meant that being close to city center offices was no longer a priority for workers. 
The 0.1% decline set the U.K. capital apart from other regions, where rental prices climbed by almost 2% on average, Office for National Statistics figures published Wednesday show. London has also registered the slowest pace of house price growth during the pandemic.  
As well as "remote working shifting housing preferences," the capital has also seen an "excess supply of rental properties as short-term lets change to long-term lets," the ONS said in accompanying commentary. 
The relaxation of England's work-from-home order has done little to encourage workers back into offices, as the holiday season draws on and many companies introduce hybrid working policies for the long-term. Central London landlords have so far been disappointed by the dribbling back of financiers into the capital, with rents through June in popular borough Tower Hamlets falling by 8.5% year-on-year, according to Zoopla.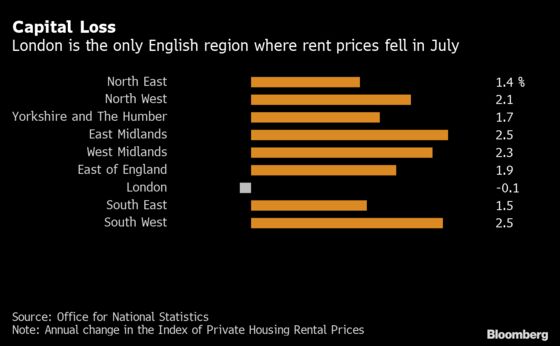 It's a different picture in other parts of the country. Excluding London, U.K. rents increased by 1.9% year-on-year, with the East Midlands and South West seeing the fastest growth. 
London also lagged every other region when it came to house prices, with prices up just 6.3% in the year to June -- less than half the national average. Values in the capital are still almost double the national average.
The average value of a U.K. home jumped 4.5% from May, the biggest monthly increase since April 2004, to a record 265,668 pounds ($365,300) as buyers rushed to tie up deals ahead of the tapering of a tax break on purchases at the end of the month. It took the annual growth rate to 13.2%, also the fastest for 17 years.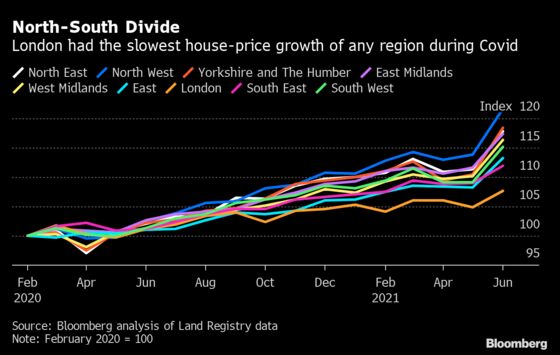 A tax break worth as much as 15,000 pounds to buyers has fueled a property boom since it was introduced 13 months ago and driven transactions to record levels. But on July 1, the stamp-duty threshold was lowered by a half, limiting the saving on a 500,000-pound home to just 2,500 pounds, From Oct. 1, the threshold will revert to its pre-pandemic level of 125,000 pounds.

House prices rose faster in June in England and Wales than they did in Scotland and Northern Ireland. Within England, a north-south divide was once again on display, with Yorkshire and the North West registering the largest gains. That reflects pandemic-induced demand for larger homes with more space away from big urban centers.