ECB Soothsaying Does Little for Bonds Caught in Global Rout
Lane Says ECB to Buy Bonds Flexibly to Halt Undue Tightening
(Bloomberg) -- The European Central Bank's pledges to fight back against unwarranted increases in bond yields are falling on deaf ears among investors.
A selloff in bonds, which pushes up yields, was stemmed only temporarily on Thursday when ECB chief economist Philip Lane said officials will use the flexibility of their emergency bond-buying program to prevent any undue tightening in financial conditions. His colleague Isabel Schnabel gave a similar message earlier in the day.
Yet Germany's 10-year bond yield climbed to the highest level since March, its French equivalent rose above zero for the first time since June, and Italian yields climbed to the highest since November. Greek 10-year yields have doubled from a record low set in December.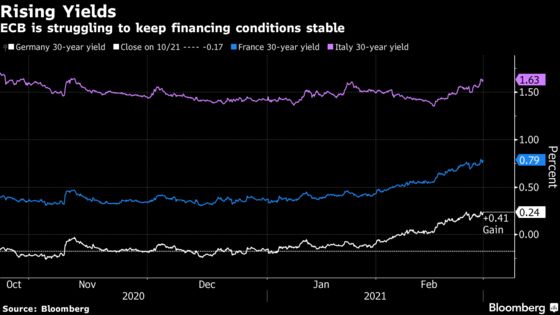 Bond yields are on the rise globally, in part due to spillovers from the U.S. economic recovery and the nation's planned $1.9 trillion fiscal stimulus program. That's testing central banks elsewhere, concerned that their own recoveries aren't yet advanced enough to cope with higher borrowing costs.
What Bloomberg Economics Says...

"The reason for the rise in bond yields is benign. Global GDP prospects, driven by the U.S. outlook, have improved ... Having said that, the euro area is somewhat behind the world's largest economy in terms of its recovery, and the ECB will therefore need to closely monitor financial markets."

-David Powell. To read his report, click here
Lane said that while ECB officials "always welcome the rest of the world growing more quickly," they recognize the risk to the euro zone.
He echoed ECB President Christine Lagarde's remark this week that the ECB is "closely monitoring" bond yields, and signaled that the pace of the 1.85 trillion-euro ($2.26 trillion) pandemic bond-buying program can be stepped up if needed.
"Lane didn't tell us anything new," said Rohan Khanna, rates strategist at UBS Group AG. "ECB bond-buying can't prevent yields from rising if the macro outlook is one of roaring growth."
The euro area is in a particularly uncomfortable spot, with an economic contraction likely this quarter because of a slow vaccine rollout and extended virus restrictions. Its own relatively small and drawn-out fiscal stimulus means output will only return to pre-pandemic levels around the middle of 2022, a full year behind the U.S.
The ECB has pledged to keep financing conditions "favorable" through the crisis, a point that Lane reiterated. He said that term applies to "the whole transmission chain of our monetary policy -- from risk-free rates to government borrowing costs to capital markets to the terms and pricing of bank lending to firms and households."
"We don't find any significant new messages in his remarks so far that it is enough to stop the current euro-area government bond momentum," said Piet Christiansen, chief strategist at Danske Bank A/S.
Lane also said monetary policy must do more than merely counter the shock of the coronavirus, meaning the ECB will provide support "for an extended period, even after the disinflationary pressures caused by the pandemic have been sufficiently offset."