Lagarde's Voila! Shows Ownership of ECB With Her Own Style
It was the moment Christine Lagarde really took charge of the European Central Bank.
After reading out the Governing Council's introductory statement -- crafted by her and 23 men -- the new president, six weeks into the job and the institution's first female leader, diverted from the usual process of going straight to questions. Instead, she offered a personal take on how she'll handle the job.
With a light-hearted warning to the assembled members of the press, the summary was that she's not Mario Draghi or Jean-Claude Trichet, her predecessors, but very much her own woman.
"I'm going to take just a couple of minutes of your time to tell you a few things. Each and every president has his or her own style of communicating. I know some of you are keen to compare, or rate and rank. I will have my own style. As I said before, don't over-interpret, don't second guess, don't cross reference. I'm going to be myself and therefore probably different."
That was a marker for Lagarde's first ECB press conference, an assured one by the broad agreement of analysts. She even set a different tone from Draghi -- and moved the euro -- by shifting the language on the risks to economic growth. Downside risks remain, she said, but they are "somewhat less pronounced." She also dropped a reference in the introductory statement to "prominent downside risks."
Before taking questions, she also spoke about her much-anticipated strategic review into monetary policy. Lagarde said it would start in January, be comprehensive and should be completed by the end of 2020.
It'll include climate change, and it'll be a two-way street, aimed at "not just preaching the gospel that we think we master, but listening to those to whom we reach out... there is no pre-conceived landing zone."
She laughed at one question that she saw as an attempt to pin her to a place on the monetary-policy spectrum -- her messages to central bankers when she was head of the International Monetary Fund suggest to many that she's fundamentally dovish.
"I see where you're trying to get me," she said. "Once and for all, I'm neither a dove nor a hawk. My ambition is to be this owl that's often associated with a little bit of wisdom. I'm not full of vanity, but I will certainly try to bring the best out of members of my Governing Council."
Digital currencies also came up, with Lagarde clear that central bankers had "better be ahead of the curve."
But she threw in some air quotes when referring to the "glamorous" topic of central bank digital currencies, saying it would be unwise to forget existing digital payments system that work behind the scenes.
And the press conference finished, naturally, with a "Voila!"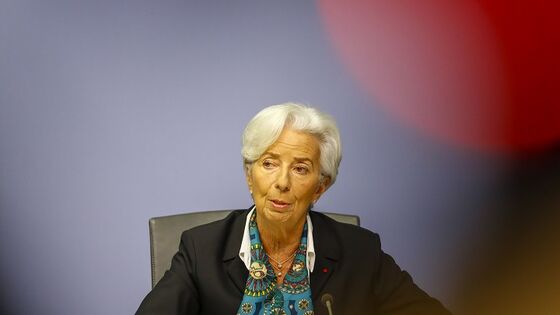 To contact the reporter on this story: Fergal O'Brien in Frankfurt at fobrien@bloomberg.net
To contact the editors responsible for this story: Craig Stirling at cstirling1@bloomberg.net, Paul Gordon