Kuwait's Pension Fund Cuts Stocks in Shift to Infrastructure
Kuwait's $124 Billion Pension Fund Plans Infrastructure Boost
11 Nov 2020, 1:13 PM IST
(Bloomberg) -- Kuwait's $124 billion pension fund is reducing its allocation to stocks in favor of alternatives like infrastructure and private equity, as it seeks to boost returns and cut a massive cash pile.
The new plan, developed with U.S.-based consultancy Mercer LLC, will start next year and will entail increasing infrastructure investments to 10% of its portfolio from 5%, "as well as fine tuning some of the other allocations," Meshal Al-Othman, director general of the Public Institution for Social Security, said in an interview with Bloomberg TV on Wednesday.
The fund, known as PIFSS, sees "lots of opportunities" in infrastructure over the next few years, especially in the U.S., he said.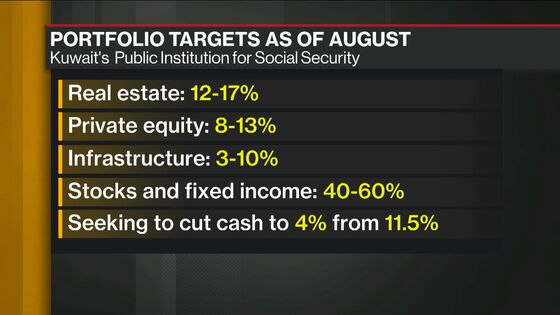 The fund, which posted a record first-half profit, is looking to raise private equity's weight to 13% from 10%, while lowering its allocation for equities to 22% from 27%, he said. Cash currently accounts for 10% of its investments, and the plan is to reduce it to 4% by March.
The move comes as pension and sovereign wealth funds around the world rotate into alternative assets to bolster yields in the low interest-rate environment. Investors are also looking for a hedge against volatile stock markets that have soared to record highs. Funds from Gulf states have been chasing overseas investments to reduce reliance on their oil-dependent home markets.
The Kuwaiti fund is focused mainly on developed markets such as North America and Western Europe, Al-Othman said.
A new management team was brought into the fund in 2017 to transform the institution after its former head was found guilty of personally profiting from the organization over decades. PIFSS owns a quarter of U.S. private equity companies Stone Point Capital LLC and Oak Hill Advisors, and 10% of buyout firm TowerBrook Capital Partners LP.
It's the second-largest investor in the local market after Kuwait Investment Authority, the world's fourth-largest sovereign wealth fund. It has holdings in more than 40% of the stocks on the domestic exchange, although most of its portfolio is offshore.
PIFSS is continuing its turnaround after cleaning up its portfolio to the tune of $20 billion and implementing a "precise and highly ambitious strategic allocation plan," which took its cash down from 42%, Al-Othman said. "We started off with a very high cash cushion, we still have a huge cushion."