Korea's Export Strength to Face Challenges from Delta Variant
Korea's Export Strength to Face Challenges from Delta Variant
(Bloomberg) -- Supply Lines is a daily newsletter that tracks trade and supply chains disrupted by the pandemic. Sign up here.
South Korea's exports reached a monthly record in August, but slowing manufacturing growth suggests the hit from supply-chain disruptions brought on by the delta variant outbreak could materialize in the coming months.
Exports increased 34.9% from a year earlier in August, according to trade ministry data that beat the forecast from economists. Total shipments reached $53.2 billion, the highest for the month, as sales of 15 key products including chips, petrochemicals and cars all posted double-digit growth.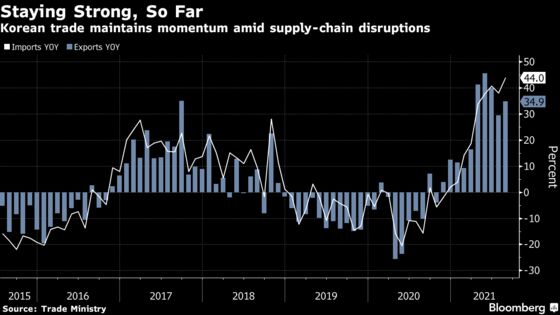 The data showed Korean exporters last month withstood disruptions wrought by the delta variant outbreak, which has forced the partial closure of a Chinese port and factory shutdowns in Vietnam. 
Still, a separate report by IHS Markit signaled product makers are starting to feel strained. Korea's manufacturing purchasing managers' index for August slid the most in 16 months, although it still held above the threshold that indicating growth. 
Across Asia, PMI readings this week have shown weakening manufacturing momentum, including a surprise contraction in China's Caixin index, indicating the case for a strong global recovery this year is no longer as solid as before.  
In Korea, supply-chain disruptions may have even helped boost the August trade numbers as they prompt businesses to stock up earlier than planned, according to Oh Jae-young, an analyst at KB Securities Co.    
"We may see some softening in the months ahead," she said.  
Average daily shipments in August, which exclude calendar distortions, rose 29% from a year earlier, less than a 32.2% rise in July. 
While the trade ministry saw risks from the delta variant, it still expected continued strength in chip sales. Demand for chips will be in excess for some time due to a rapid transition to an online economy and the adoption of 5G technology, the statement said. Semiconductor exports gained 43% in August from a year ago. 
Korea's imports remained strong, rising 44% from a year earlier, led by intermediate and capital goods. Purchases of chip-making equipment and those for liquefied natural gas more than doubled, suggesting businesses are preparing for more demand. 
"August data marked a significantly softer improvement in the health of the South Korean manufacturing sector," Usamah Bhatti, an IHS Markit economist, said. "Manufacturers commented that this recovery would be aided by the dissipation of the pandemic, which would help to reduce supply chain bottlenecks." 
The expansion in Korea's exports and investment has supported the economy through the pandemic. The Bank of Korea raised its interest rate from a record low last month and is eyeing another hike as it projects the economy to expand 4% this year.    
Korea's trade data are considered a key barometer of global demand as the country manufactures essential items such as chips, displays and refined oil for the world economy. 
Overall exports to China gained 26.8% in August from a year earlier. Sales to the U.S. were up 38.1%, while those to Japan increased 44% and were up 41.6% to the European Union.  
Total automobile shipments advanced 16.9%, while exports of wireless devices jumped 62.2%. Foldable smartphones and other new mobile products helped the sales of wireless devices, the ministry said. 
Last month was the first time since the ministry started tracking trade data that all 15 key product groups expanded at a double-digit pace, according to the statement.