JPMorgan Says Lebanon Banks Resist Debt Swap With Eurobond Sales
(Bloomberg) -- Lebanon's plan to get local banks to swap into longer-maturity Eurobonds may be meeting resistance and signals growing financial stress in the country, according to analysts at JPMorgan Chase & Co.
Local lenders started offloading their holdings of the country's $1.2 billion bond after the central bank proposed an exchange into other instruments when it matures on March 9, a sign they could be reluctant to go through with the deal, JPMorgan said.
Governor Riad Salameh said in an interview last week the plan was "preemptive" and dependent on the banks' consent. While he didn't say what the terms of the new bonds would be, JPMorgan said locals may be asked to swap into existing government dollar notes maturing in November 2029 and July 2035. Owned mostly by the central bank, those securities have coupons of 11.5% and 12%, respectively.
"Locals have started selling the March 2020 Eurobonds, which could suggest commercial banks have a limited appetite for the proposed swap, putting a cap on the impact of the operation," JPMorgan strategists Mikael Eskenazi in London and Trang Nguyen in New York said in a Jan. 13 note seen by Bloomberg. "The latest measure is signaling rising near-term liquidity stress, casting doubt on the ability to service debt near-term."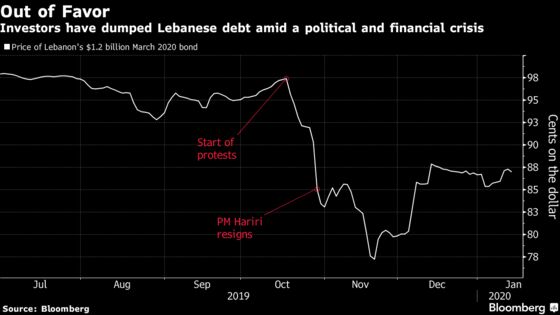 The proposal is the latest effort by one of the world's most indebted nations to buy more time in the face of looming repayments and dollar shortages. Among the reasons banks may not be on board is that the notes maturing in March trade at 87 cents, much higher than the price of Lebanon's longer-dated debt, most of which trades at less than 50 cents.
Lenders may also prefer boosting their foreign-exchange liquidity rather than keeping their money within Eurobonds. Bank Audi said Wednesday it's trying to sell its Egyptian unit to raise capital.
"One key motivation for locals' selling of higher cash price bonds in the short end of the curve could result from banks trying to cope with higher dollar needs," Eskenazi and Nguyen said.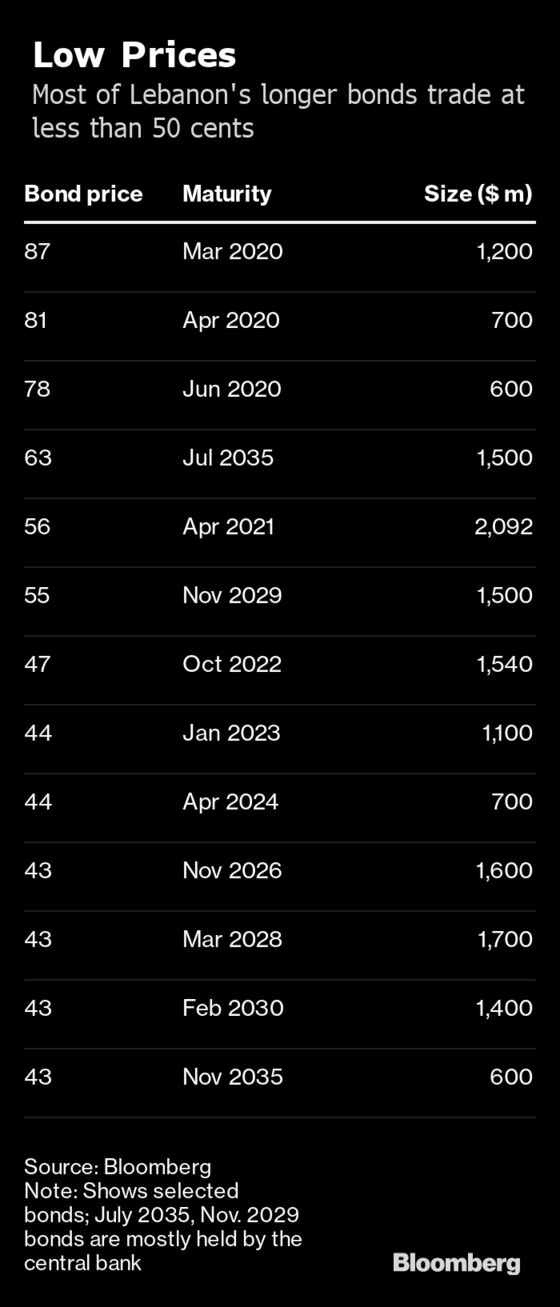 Other points from the report:
JPMorgan estimates that locals hold about half, or $600 million, of the March bonds
The swap announcement casts "doubts on the true availability of the country's FX reserves," with outflows picking up at the end of last year
Rudderless since Prime Minister Saad Hariri resigned in October as moves to raise fees and taxes triggered massive anti-government protests, Lebanon is gradually succumbing to its worst economic malaise in decades. Global bond investors have all but priced in a sovereign default, though they differ on when it would happen and whether foreign investors would be exempt.
Salim Sfeir, the head of the Association of Banks in Lebanon, didn't immediately respond to a request for comment. Reuters cited Sfeir in a report Jan. 13 as saying he didn't foresee any problems with the swap proposal and it was "common practice."
--With assistance from Paul Abelsky and Dana Khraiche.
To contact the reporter on this story: Paul Wallace in Dubai at pwallace25@bloomberg.net
To contact the editors responsible for this story: Lin Noueihed at lnoueihed@bloomberg.net, Paul Abelsky, Alex Nicholson