Japan Yields Slide to Three-Year Low, Shrug BOJ's Control Bid
(Bloomberg) -- Japan's 10-year bond yield slipped to the lowest since July 2016, shrugging off an attempt by the central bank to stem its decline amid a global debt rally. New Zealand's benchmark rate also fell to a new record low.
The JGB yield dropped two basis points to minus 0.255%, as growing fears about world growth and the U.S.-China trade war drive investors to haven assets. The Bank of Japan, widely seen as having a yield target range of about 20 basis points from zero for the benchmark, cut its purchases of 5-to-10 year bonds at Friday's operations.
The world's negative-yielding bonds have surged to a record $16.7 trillion, while a key part of the U.S. Treasury curve inverted this week, signaling an expectation for the American economy to tip into a recession. With markets pricing in further easing by major central banks, investors including Janus Henderson are continuing to pile into debt.
"BOJ's action came as yields were getting too low," said Takafumi Yamawaki, head of local rates and FX research at JPMorgan Chase & Co. in Tokyo. "It is difficult for the BOJ to achieve everything, such as monetary expansion guideline, steepen yield curve, boost yield levels and keep the 10-year range. At some point, the BOJ will have to give up something."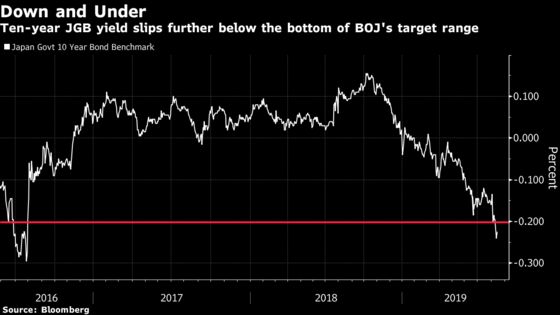 READ: Yields Sinking Below Target Puts Spotlight on BOJ's Response
New Zealand's 10-year bond yield fell as much as 3 basis points to 0.98%, the first time it has dipped under 1%.
"Major global central banks are easing, and the fall in global yields will ripple to New Zealand," said Imre Speizer, head of New Zealand strategy at Westpac Banking Corp. in Auckland. The nation's central bank could cut rates by 25 basis points to 0.75% in November, he said.
Treasury 30-year yield hit a record low this week, while the 10-year fell below the 2-year rate. Thursday's U.S. retail sales figures, which showed the consumer remains in fine form, barely had any market impact with investors waiting on clarity about U.S.-China trade and the Federal Reserve policy outlook.
The BOJ cut purchases in the key five-to-10 year maturity zone by 30 billion yen ($282 million) from its last operation, its first reduction since December. It has been gradually tapering its outright bond purchases, with the recent focus largely being on steepening the yield curve.
"Global yields are sinking or approaching zero, adding momentum for Japanese investors to return to super-long Japanese government bonds," Kazuhiko Sano, chief strategist at Tokai Tokyo Securities Co., wrote in a note before the operations. "Against this backdrop, it's unlikely that the drop in yields will stop even when the 10-year yield at minus 0.25% serves as a milestone."
To contact the reporters on this story: Chikako Mogi in Tokyo at cmogi@bloomberg.net;Ruth Carson in Singapore at rliew6@bloomberg.net
To contact the editors responsible for this story: Tan Hwee Ann at hatan@bloomberg.net, Shikhar Balwani