Japan's Buoyant Growth Figures Mask Weaknesses in Economy
(Bloomberg) -- Japan's faster-than-expected growth in the first quarter offers Prime Minister Shinzo Abe's government a figure that backs its view of an economy holding up well for a tax increase while papering over underlying weaknesses.
Business investment continued to increase in the first three months of the year despite crackling trade tensions, helping nudge up growth from initial estimates. But outside the growing capital spending the expansion was based almost entirely on the technical factor of falling imports outpacing export declines.
Revised figures showed gross domestic product expanded at an annualized pace of 2.2% in the first three months, a fraction higher than an initial estimate, and an acceleration from a 1.8% gain in the fourth quarter of last year.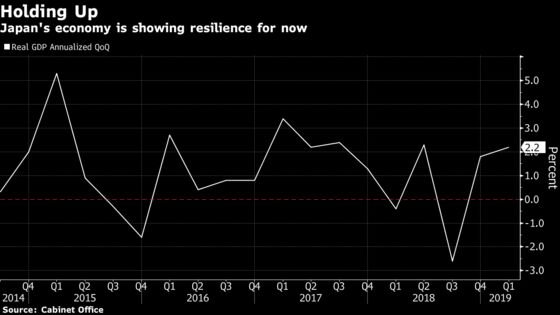 The expansion supports Abe's argument that the economy is showing resilience in the face of external headwinds, including slowing global growth, and can withstand the impact of a sales tax increase scheduled for October. Speculation that weakness in the economy might prompt him to postpone the tax hike for a third time cooled further in recent days, with Finance Minister Taro Aso telling Group of 20 finance leaders at the weekend that the tax hike would go ahead.
Today's good news could be tomorrow's bad news, however. Flattering growth figures for the January-March period raise the hurdle for the current quarter, in which global trade tensions have escalated considerably with expectations for a U.S.-China trade deal dashed and President Donald Trump playing the tariff card to extract concessions from Mexico.
Olympic demand and the need for automation to cope with a labor shortage is driving domestic capital spending, but for Japan's big manufacturers, it's a different story. They already started cutting back on spending in the first quarter as they fret over the dark clouds on the horizon.
"If economic data for May is weak, that's going to raise the possibility of overall GDP turning negative," said Mari Iwashita, chief market economist at Daiwa Securities, citing the impact of the third round of U.S. tariffs against China. "It's going to be a struggle with domestic demand trying to support growth amid weakness in external demand."

What Bloomberg's Economists Say

"The second reading on Japan's 1Q GDP sent a reassuring message, as expected -- growth was a tick stronger than the preliminary figure, with an increase in private capital expenditure helping to drive the expansion. This should all but put to rest speculation that the government will delay a sales-tax hike slated for October."

--Yuki Masujima, economist
Click here the view the piece.
Business investment rose 0.3% from the previous quarter. Economists forecast was for a 0.5% rise.
Private consumption slipped 0.1% from the previous quarter, unchanged from the initial reading and in line with economists' estimates.
The current account balance for April showed a surplus of 1.7 trillion yen, compared with a 1.5 trillion yen surplus estimated by economists.
--With assistance from Shiho Takezawa.
To contact the reporter on this story: Yuko Takeo in Tokyo at ytakeo2@bloomberg.net
To contact the editors responsible for this story: Malcolm Scott at mscott23@bloomberg.net, Paul Jackson, Henry Hoenig