Italy's Debt to Reach 160% of GDP This Year, Draft Budget Shows
Italy's Debt to Reach 160% of GDP This Year, Draft Budget Shows
(Bloomberg) -- Italy expects debt to rise to about 160% of gross domestic product by the end of this year despite a smaller-than-forecast contraction of the economy, officials familiar with ongoing budget talks said.
The new figures, which are provisional and still subject to change, see the economy expanding 6% in 2021, the officials said, asking not to be named discussing confidential deliberations. Finance Minister Roberto Gualtieri said he will likely present the autumn budget update early next week.
Gualtieri has pledged to disclose a "significant" long-term target for reducing the country's crippling debt pile, which stood at 134.7% at the end of 2019. It is forecast to rise to 161.6% this year by Mazziero Research, after the government dramatically expanded borrowing to respond to the coronavirus crisis.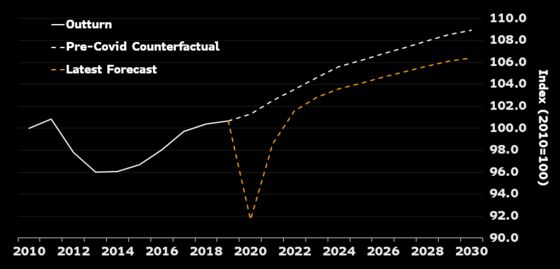 The government's debt position could significantly improve next year driven by investments linked to initial funding from the European Union's recovery fund, with Italy set to be the biggest beneficiary, one of the officials said.
The economy is forecast to shrink 9% this year, the officials said. In 2021 the economy could expand more than the baseline, between 7% and 7.5%, if the spread of the pandemic is limited and investments are accelerated, one of the officials added.
Newspaper La Stampa reported on the outlook earlier on Wednesday.