Indonesia Seen to Hold Rates, Focus on Stability: Decision Guide
Indonesia Seen to Hold Rates, Focus on Stability: Decision Guide
(Bloomberg) -- Bank Indonesia is expected to stand pat on rates for a fourth straight month, wary of financial volatility risks as markets weigh the possibility that the U.S. Federal Reserve could begin tightening monetary policy later this year.
All 30 economists surveyed by Bloomberg say the central bank will keep its seven-day reverse repurchase rate at a record-low 3.5% on Thursday. Governor Perry Warjiyo said earlier this week that Bank Indonesia will maintain measures to stabilize the exchange rate in response to market volatility.
The central bank is keeping an eye on the Federal Reserve's policy direction, especially its signals on monetary tightening, which is expected to begin by next year at least, Warjiyo said.
"The fact that the U.S. inflation numbers have overshot expectations would not give comfort to central bankers in Asia, especially Bank Indonesia," said Satria Sambijantoro, a Jakarta-based economist at PT Bahana Sekuritas.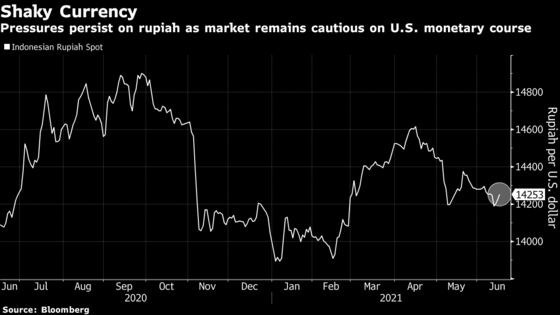 Here's what to look out for in Thursday's decision:
Warjiyo has said rates will be kept low until signs of inflation appear, which is expected no sooner than early next year. He has continued to call on banks to lower borrowing costs in line with the 150 basis points of rate cuts from the central bank since the beginning of 2020.
The governor "has been downplaying the likelihood of further rate cuts, reiterating the need to ensure rupiah stability in justifying its recent decisions to remain on hold," said Brian Tan, an economist at Barclays Bank Plc in Singapore. Bank Indonesia won't begin normalizing its policy rate until the second half of 2022, he added.
Pressure on the rupiah had eased a bit over the past month as U.S. Treasury yields fall, but the currency has started faltering again this week after the government reimposed stricter movement curbs amid the pandemic.
The currency has crawled back above 14,200 to the U.S. dollar since Monday, and is down more than 1.3% this year.
"BI will maintain its policy rate in the foreseeable future to ensure rupiah stability, keeping in mind that selective central banks in the emerging-market space have turned hawkish lately," said Wisnu Wardana, an economist at PT Bank Danamon in Jakarta. Demand-led imports may widen the current-account deficit, posing a further downside risk to the currency, he said.
Southeast Asia's biggest economy has gained momentum as expected in the second quarter, with indicators of domestic consumption such as consumer confidence and retail sales at their highest levels since the pandemic began. Indonesia's manufacturing purchasing managers' index hit a record in May, while exports are growing strongly.
It will be important for the central bank to maintain that rapid recovery in coming quarters as economies diverge globally, said David Sumual, an economist at PT Bank Central Asia in Jakarta.
"What will be worrying is if our recovery pace lags other countries, especially the U.S., and the signal of stimulus tapering comes early when our economy is not yet solid," Sumual said.
Inflation in May hit its highest level since December, though it remains below the central bank's 2%-4% target.
"With global inflation seen picking up along with soaring energy prices and demand recovery, local price pressures will also continue to increase and accelerate even more in the second semester," Wardana said.
Going forward, Bank Indonesia may need to begin factoring in planned tax hikes, PT Bahana Sekuritas's Sambijantoro said.
"If the central bank wants to deliver dovish signals, it should wait for clarity in the government's taxation policies -- which, if implemented, may incite inflationary pressures," he said.