India to Give New Bad Bank $4.2 Billion Sovereign Guarantee
(Bloomberg) -- India will guarantee 306 billion rupees ($4.2 billion) of security receipts issued by its new bad bank, in a fresh attempt to clean up one of the world's biggest piles of bad loans.
Authorities have identified 2 trillion rupees of non-performing assets, some 900 billion rupees of which will be parked with the bad bank in the first phase, Finance Minister Nirmala Sitharaman told reporters Thursday. The guarantee will be for a period of five years, she said.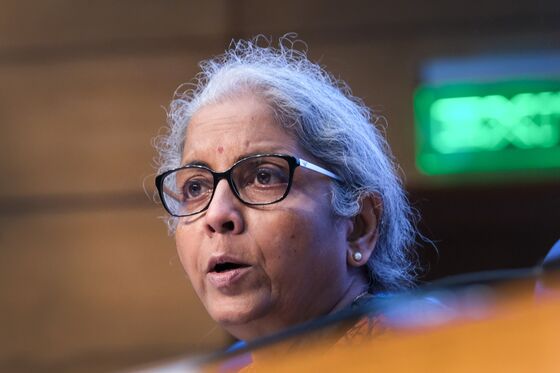 The government announced the creation of the bad bank -- the National Asset Reconstruction Co. Ltd. -- after an overhauled bankruptcy process rolled out in 2016 saw only muted success. NARCL, majority owned by state-run lenders which also hold the bulk of soured assets, will take over bad loans from commercial banks and sell them on to investors.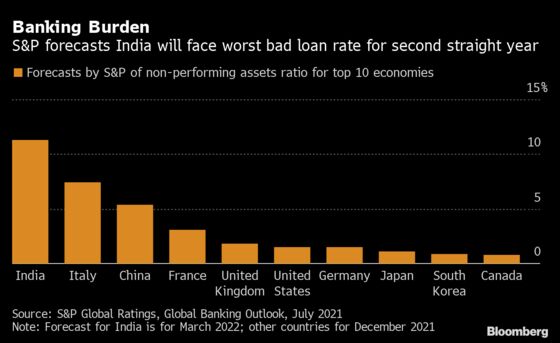 "The bad bank will free up most of the long-pending non-performing assets from banks' books and create more space for lending," said Anand Dama, head of research for banks and financial institutions at Emkay Global Financial Services. 
The government hasn't provided a timeline for the transfer of bad assets. NARCL will purchase soured loans by paying lenders 15% of the agreed value upfront, while the remaining would be covered by issuing government-backed securities. 
"Once the valuation happens and they are sold off, it is the gap that arises from the face value and the realized value for which this backstop comes in," Sitharaman said. "Either resolve or liquidate, otherwise you cannot invoke this guarantee."
For more details read:
Lenders Identify $11 Billion Debt to Offload to India's Bad Bank
The firm was registered July 7 with Padmakumar Madhavan Nair, who previously worked at State Bank of India, as the managing director. Loans from Videocon Oil Ventures Ltd. and Amtek Auto Ltd. will be among the first to be offloaded to the bad bank, according to people with knowledge of the matter.
S&P Global Ratings estimates India's bad loan ratio will rise to 11.3% of total loans in the year ending March 2022 from 7.48% a year earlier. The credit assessor's forecast tops the Reserve Bank of India's projection of 9.80%.