India Consumer Price Inflation Rises, Adds to Rate Pressure
India Consumer Price Inflation Rises, Adds to Rate Pressure
(Bloomberg) -- India's consumer prices rose for the third straight month in December, adding pressure on the central bank to join some global peers seeking tighter policies to cool inflation.
Retail inflation stood at 5.59% year-on-year compared with a 4.91% gain in November, the statistics ministry said Wednesday. That's slower than the median estimate for a 5.8% gain in a Bloomberg survey of 35 economists.
The Reserve Bank of India's focus on sustaining the economy's momentum out of the pandemic will be complicated as inflation inches toward its target ceiling of 6% and raises the chance of rate hikes in the fiscal year starting April 1.
The central bank has held borrowing costs at a record low through the pandemic, and has forecast inflation will stay within its target range at 5.3% this fiscal year. The next policy meeting concludes Feb. 9. 
A hike in tariffs by telecom companies helped fan consumer costs last month. India's inflation is already the second-fastest in Asia and further supply chain disruptions due to Covid-related restrictions could add pressure. 
Core inflation remains elevated, "reflecting the gradual pass-through of cost push pressures by producers to consumers and mobile tariff hike," said Gaura Sen Gupta, an economist with IDFC First Bank in Mumbai.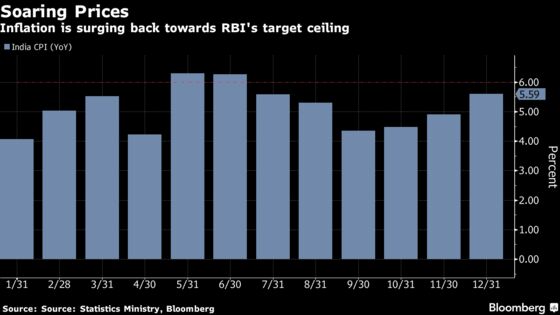 Consumer food price inflation increased to 4.05%, clothing and footwear prices rose 8.3%, housing prices were up 3.6%, fuel and electricity prices jumped 10.95%.
Wholesale price inflation has also stayed high since the beginning of the year due to surging input prices. Data due Friday is likely to show wholesale prices rose 13.8% last month, compared with 14.23% in November.
Data released separately on Wednesday showed industrial output in November rose 1.4% from a year earlier, compared with 3.2% in the previous month.