India Bans All Exports of Virus Drug Often Touted by Trump
The move comes on a weekend when PM Modi discussed the global supply chain for drugs and other medical supplies with Trump.
India banned all exports of hydroxychloroquine, a malaria drug that President Donald Trump has repeatedly touted as a "game changer" in the fight against Covid-19.
Exports of the drug and its formulations are prohibited "without any exceptions" and with immediate effect, India's Directorate General of Foreign Trade said in an April 4 order on its website. The trade regulator had last month restricted overseas shipments of the drug, allowing only limited exceptions such as on humanitarian grounds and for meeting prior commitments.
At a press conference on Saturday, Trump said he spoke to Indian Prime Minister Narendra Modi and appealed for the release of shipments U.S. has already ordered. India is giving his request "serious consideration," he said.
On Sunday, Trump continued to promote the drug, saying the U.S. has secured 29 million choloroquine or hydroxychloroquine pills for its medical stockpile, again touting the drug's promise despite an absence of scientific scrutiny. Saying he was "trying to save lives," the president asked "what really do we have to lose?"
"I've seen things I sort of like," Trump said at a White House news conference. "What do I know, I'm not a doctor. But I have common sense."
U.S. Surgeon General Jerome Adams on Sunday said there had been "some accounts, some stories" about hydroxychloroquine "helping" and the drug has been available for years.
"We feel a little bit better regarding its safety than we do about a completely novel drug, even though this is being used at much higher dosages," Adams said on "Fox News Sunday"
There's no conclusive scientific evidence that hydroxychloroquine can treat the infection from the novel pathogen, and it hasn't been approved by the Food and Drug Administration in the U.S. to treat Covid-19.
Trump has been undeterred, though. "What do you have to lose? Take it," the president said at Saturday's briefing. "I really think they should take it. But it's their choice."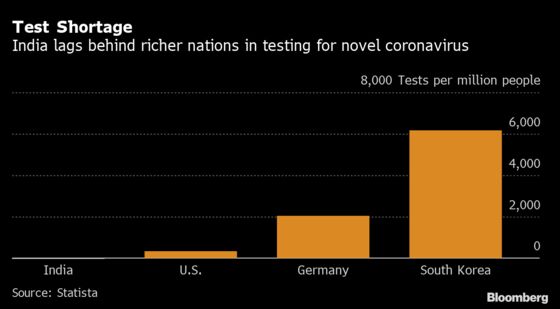 "We just want to be able to facilitate physicians and patients having that conversation," Adams said. "That's what I tell people. That's what I've heard the president tell people."
The ban reflects India's rising concern over the rapid spread of the coronavirus, with risks of community spread rising in the country of 1.3 billion people.
India has recorded 3,374 positive cases so far and has lost 77 lives, according to the federal health ministry. The country has struggled to keep people indoors during a three-week lockdown that started March 25, raising fears of accelerating spread.
Krishna Memani On The Virus Crisis, Hidden Risks And India Recovery
Get Your
Daily Newsletter
Get market moving news, top news & compelling perspectives
---