Trump's Trade War Told Through the Story of a Leather Belt
The U.S. imported $217 million of leather belts made in China in 2017.
(Bloomberg) -- To an American shopper, it may be just a leather belt. But the 16,000-mile journey undertaken by this simple accessory relies on a complex network of companies that are coming under strain like never before.
As the trade war between the U.S. and China disrupts the supply of goods and materials across the Pacific Ocean, a vast web of suppliers, distributors, manufacturers and customers that took decades to build is being challenged by tariffs on both shores.
The U.S. imported $217 million of leather belts made in China in 2017, a small portion of the billions of dollars in leather trade between the two countries annually. To gauge how the salvos of duties and threats are affecting the key players along the supply chain, Bloomberg News tracked a hypothetical leather belt in its journey from a Texas field to a southern Chinese factory and eventually on to the U.S. consumer.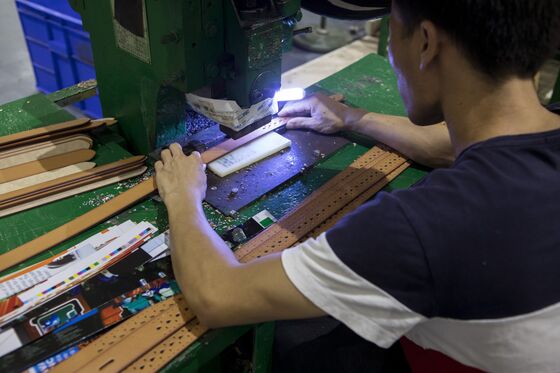 In the tit-for-tat fight over trade, China has slapped duties on $110 billion of American goods, including leather. President Donald Trump's administration has raised tariffs on $250 billion of Chinese products, with leather, belts and other accessories included in the latest round of levies.
China, long known as the world's factory, makes the bulk of leather goods used globally. But now the leather industries there and in the U.S. are bracing for the fallout as the breakdown of decades-long relationships creates opportunities for rivals outside of both countries.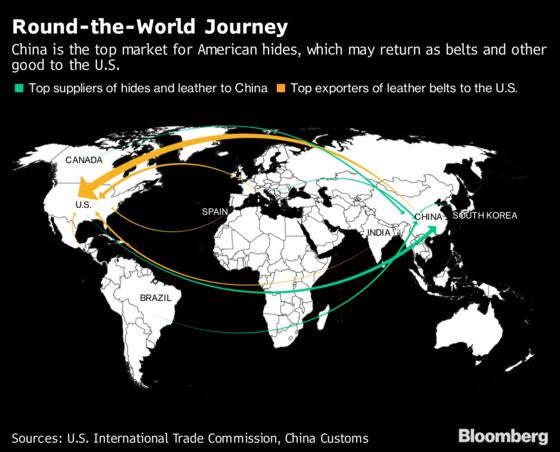 "About $10 billion worth of import and export leather flow is affected," said Su Chaoying, honorary chairman of the China Leather Industry Association. "So we have very serious problems."
The story begins on a Texas ranch, with a cow.
The transformation from cow skin to leather belt starts at Texpac Hide and Skin Ltd. in Fort Worth, Texas. The company has been taking fresh cow skins and hides from slaughterhouses and meat-packing plants, curing them, and exporting them around the world for 18 years.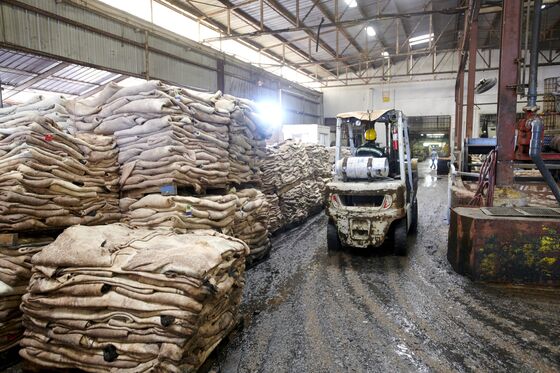 American processors like Texpac depend heavily on Chinese tanneries to buy their stock. Last year, $1 billion worth of U.S. hide, skin and leather products -- more than half the country's output -- went to China.
This month, China imposed an additional tariff of 5 percent or 10 percent on certain types of American-imported hides in retaliation for U.S. levies. Texpac and other processors now face losing business to Brazilian and Australian competitors that enjoy lower duties.
"If you have to pay even a slight amount more, the Chinese will be looking to other countries to supply what they need," said Jamie Zitnik, Texpac's president. "They won't have a choice if they can't rely on us as a trading partner."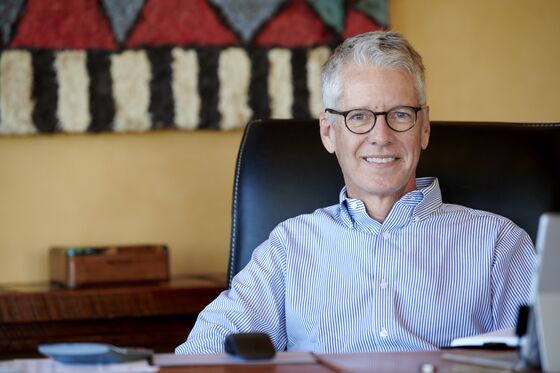 The tariffs come amid an already depressed market for hides and skins, as consumers buy more products made with synthetic materials and sentiment shifts against animal products and industrial farming.
Texpac processes some 25,000 skins and hides every week and sends 80 containers of them to China monthly. Since the trade war began, Zitnik has promised his Chinese buyers that he will share some of the added tariff burden with them.
On a $45 hide, an extra tariff of 5 percent adds up to $1,440 more per container.
"It's a lot," Zitnik said. "We will have to pass that price drop onto our packing house as well and they'll get less money. And on the other end, the tariffs will also be passed forward so that the American consumers will be paying more for their leather goods."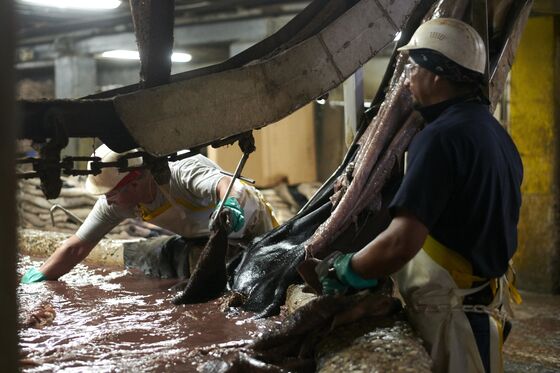 Hides that will be turned into belts and other goods for processing in China have to be packed in special containers for their journey. The boxes are carefully cleaned, padded and lined with plastic to prevent moisture from getting into the leather during the voyage.
The U.S. leather industry is valuable for shipping firms because it provides return cargoes for the endless stream of full boxes that come from Asia, many of which must return empty.
Hyundai Merchant Marine Co., South Korea's biggest sea carrier, said it's seeing an uptick in shipments given it's peak season and as shipments are rushed out on concern the trade war will intensify.
More than 18 million containers were shipped last year from Asia to North America and fewer than 8 million of them returned full, according to World Liner Data Ltd. and Container Trades Statistics Ltd.
Once in China, it's the job of the tanner to dehair, chemically process and dye the hides to produce sheets of finished leather that will be transformed into the belt. This stage can be dangerous due to the use of chemicals like hexavalent chromium, which can cause lung cancer. That's why there are almost no tanneries in the U.S.
Instead, this work is done by Chinese companies operating in rural areas, like Dongguan Junxi Leather Co., whose plant is a five hour drive from Guangzhou city in southern China.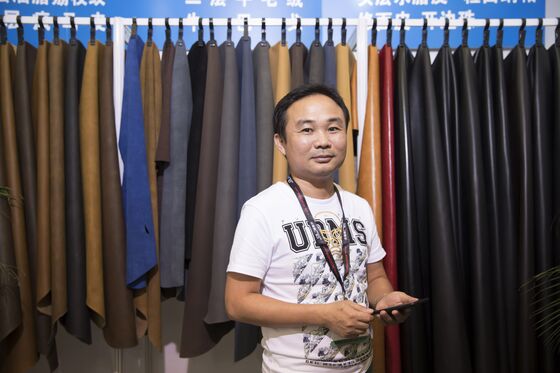 General manager Lyu Zhihao has already stopped ordering from American hide suppliers. Still, he has two containers already en-route to China, each with $700,000 worth of skins and hides. He has a glut of hides and said he can't afford to pay the extra levies on the containers. He said Chinese port authorities are subjecting American shipments to heavier scrutiny now, causing costly delays in the customs process.
"It's difficult because we have built up a relationship with our American suppliers over many years, but I am aiming to switch completely out of U.S. sourcing," he said. "It's too much of a bother now to import from the U.S."
Another Chinese tannery has built a facility in Thailand and has told him that he can re-route his American skins there to avoid the tariff. In the long run, he may build a plant elsewhere, as labor and environmental restriction costs continue to rise in China.
"I am reluctant to go because we have around 50 workers who have depended on me for many years," Lyu said. "Soon, I may have no choice."
Jennie Zhang's family has been making leather belts in southern China since 1939 and once supplied the People's Liberation Army with belts for soldiers' uniforms. The finished sheets of leather are sold to Chinese factories like hers, Guangzhou Jinhuamei Leatherware Co., that manufacture leather belts, handbags and shoes. The material is also in demand for use as upholstery in automobile interiors and for furniture.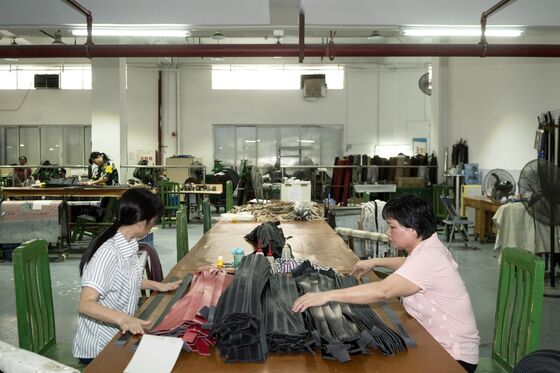 Zhang's company exports a third of its output to U.S. American retailers. Companies like Target and Walmart that source their leather bags and belts from Chinese suppliers like Jinhuamei now have to pay an additional 10 percent tariff to bring those items into the U.S. That rate will jump to 25 percent in January.
Since the Trump administration ramped up its tariff threats in July, Zhang has been waiting for the inevitable. She expects her American customers will ask for price cuts to absorb the extra duties.
"If we say that we won't help to absorb the tariffs cost and stop taking American business, we have to shut down the factory and lose everything," she said. "But if we agree to absorb some costs, we will suffer mounting losses every month. So we either die immediately, or die slowly."
To complete its journey, the belt is shipped from factories like Jinhuamei to the U.S. There, wholesalers and retailers are bracing for a loss of business. From retail giants to small shop owners, the message is the same: shoppers will have to pay the cost.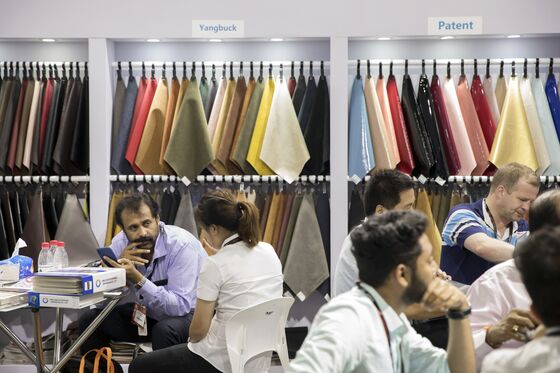 "Importers tell me that they will not be able to absorb the additional duty, so they will have to pass it on," said Sara Mayes, head of the New York-based Fashion Accessories Shippers Association. "The consumer will end up paying the increases."
She said finding alternative suppliers outside China would be difficult and would take at least a year.
"Quality standards have to be checked, importers will have to check to see if the factories are CTPAT (anti-terrorism) compliant, raw materials have to be re-routed, financial arrangements have to be made, supply chain procedures have to be changed, inspections have to be set up," she said. "Importers who are currently sourcing from China will probably have to eliminate U.S. employees."
For U.S. shoppers, it's beginning to sink in that they may end up bearing the brunt of the trade spat for hundreds of products.
At Macy's flagship New York store, photographer Antoine Spignardo and stylist Savvy Taylor are looking for a fashion piece to bring together an outfit they are preparing for a photo shoot. They chose a black, mostly leather DKNY belt with a chunky silver clasp that was made in China. It's unclear where the raw hide originated from.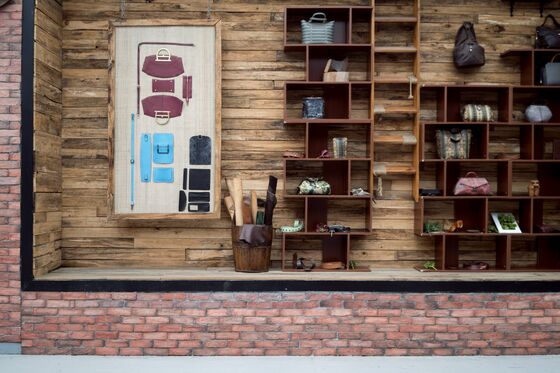 "When you get to, say, 15 or 20 percent, then I would really notice the price difference," Taylor said, holding the belt that was on sale for $55.80. For a big-ticket item, that kind of increase would pack a major punch, said Spignardo. "If it was a designer belt, then yes I would say, why is my $300 belt now like $400?"
For Adrian Washington, eyeing a $36 leather Calvin Klein belt for his wife, even a 10 percent price hike would make a difference. Washington is saving up to buy a house.
"I wouldn't buy it," said the 31-year old cook.
--With assistance from Gerald Porter Jr., Kyunghee Park, Jonathan Roeder and Hannah Dormido.
To contact Bloomberg News staff for this story: Rachel Chang in Shanghai at wchang98@bloomberg.net;Daniela Wei in Hong Kong at jwei74@bloomberg.net;Hema Parmar in New York at hparmar6@bloomberg.net
To contact the editors responsible for this story: K. Oanh Ha at oha3@bloomberg.net, Adam Majendie
With assistance from Editorial Board