Hong Kong's Home Market Suffering Worst Declines Since 2016
Hong Kong's Housing Market Is Suffering Worst Declines Since '16
(Bloomberg) -- Hong Kong's housing market is suffering its worst declines since 2016 -- by multiple measures.
New-home sales this month are on track to be the lowest by volume since January or February of that year, according to Midland Realty data.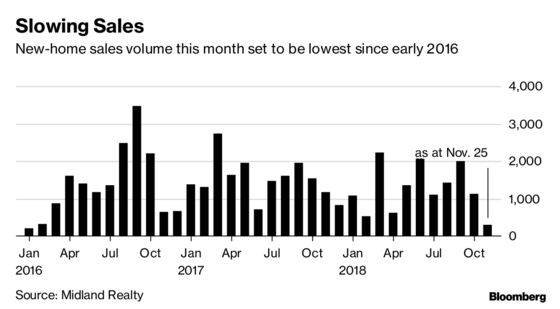 Meanwhile, used-home prices have fallen for eight weeks, the longest losing streak since 2016, according to the Centa-City Leading Index.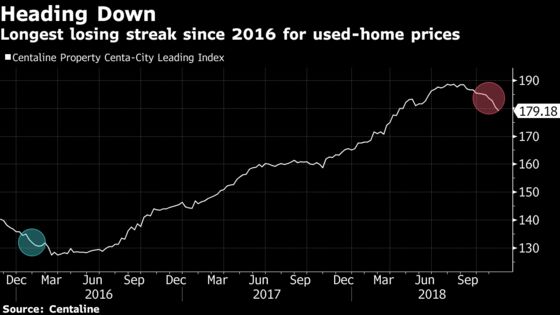 In addition, used-home prices have this month recorded the biggest single-week decline since March 2016, falling 1.3 percent week-on-week, the data show.
Anecdotal evidence, such as reports of slow sales at a Country Garden Holdings Co. project, is also fueling speculation that the world's least affordable housing market is heading for a correction. So far, secondary home prices have dipped five percent from an August high.
Goldman Sachs Group Inc. is forecasting a 15 to 20 percent decline over two years as the city's interest rates rise in tandem with the U.S., according to a research report handed out at a press briefing on Monday.
--With assistance from Gregor Stuart Hunter.
To contact the reporter on this story: Shawna Kwan in Hong Kong at wkwan35@bloomberg.net
To contact the editors responsible for this story: Katrina Nicholas at knicholas2@bloomberg.net, Paul Panckhurst