Harvard Leads U.S. Colleges That Received $1 Billion From China
Last week's arrest came as the U.S. combats what it says is intellectual property theft and corporate espionage done by Beijing.
(Bloomberg) -- Trade tensions between Beijing and Washington have been building for years, leading the Trump administration to label the Asian nation "a threat to the world." Yet the tally of gifts and contracts from China to U.S. universities since the start of 2013 is approaching $1 billion.
About 115 colleges got monetary gifts, contracts or both from sources in mainland China in the six and a half years through June, according to a Bloomberg analysis of U.S. government data. The leader was Harvard University, which pulled in $93.7 million, the majority as gifts. The University of Southern California and University of Pennsylvania were second and third.
China and its citizens are playing a greater role in U.S. campus life, even as President Donald Trump wages a trade war against the world's second-largest economy. The Asian nation was the biggest contributor in the period after Qatar at $1.8 billion and the U.K. at $1.1 billion. The closer ties may be in jeopardy after the arrest of a Harvard chemistry professor accused of lying about his connections to China and concealing payments to him from a Chinese university.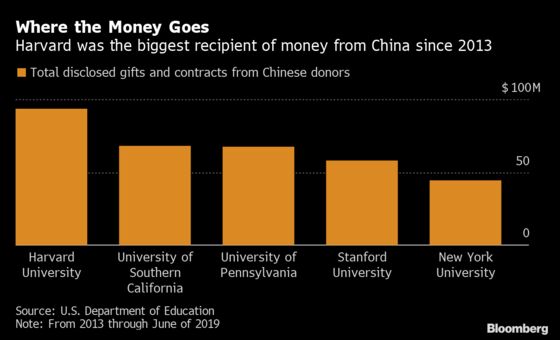 "China is a threat to the world in a sense, because they're building a military faster than anybody and, frankly, they're using U.S. money," Trump told reporters at a press conference in September as he discussed global trade with Australia's prime minister.
Last week's arrest came as the U.S. combats what it says is intellectual property theft and corporate espionage orchestrated by Beijing. Trump administration policies have already slowed the Chinese student influx.
Still, the number of Chinese students at U.S. colleges has almost tripled over a decade. China accounts for one-third of the 1.1 million foreign students, according to data from 2018-19 compiled by the Institute of International Education. Schools have been looking to global sources to fill seats and find cash in the face of government cuts.
"When you have 370,000 students from China coming here, there are a lot of personal connections between American institutions and Chinese alumni and academic institutions," said Nate Johnson, an independent consultant who works with state and university officials on budget issues.
The U.S. has been collecting data about foreign ties to colleges for more than 30 years. Congress "balanced academic freedom and national security" by mandating reporting of contracts or gifts from any foreign source valued at $250,000 or more in a calendar year, according to the Department of Education.
Just as the U.S. government has expressed concern about Chinese intelligence and influence in universities, so have officials in the U.K. Oxford University stopped accepting research funding or philanthropy from Chinese telecommunications giant Huawei Technologies Co. last year.
The U.S. is looking to collect more information on overseas money to colleges and wants better reporting. Over the past year, it has become apparent that there is "widespread non-compliance across U.S. universities," according to an Education Department spokesman.
Schools worry that trade secrets or the names of individual donors could be exposed, said Terry Hartle, senior vice president of the trade group American Council on Education.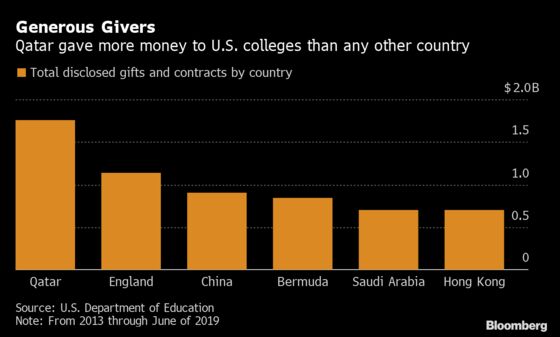 About $12 billion poured in from foreign sources to U.S. colleges in the period. Hong Kong, tallied separately, accounted for $700 million.
Harvard, which finished a fundraising drive in 2018 that gathered more than $9.6 billion, attracted donors from 173 countries, according to a spokesman. USC and Penn representatives didn't reply to requests for comment.
At the University of Illinois at Urbana-Champaign, $27 million of the $35 million in contracts with Chinese sources is directed to a partnership between the engineering school and Zhejiang University to develop a program in Haining, said Chris Harris, a spokesman.
"We continually review our policies and practices to ensure that our research and educational operations are following the best practices," Harris said.
Arizona State University, which got $38 million of contracts, "supports and encourages" cross-border collaborations, said spokesman Skip Derra, as part of its aim to be "a leading global center for interdisciplinary research, discovery and development."
It's not just the large universities collecting money and contracts. Middle Tennessee State University received $1.1 million in contracts, almost all of it for a Chinese music and culture center that opened in 2016.
"We've taken the necessary safeguards that such partnerships remain resources but are not embedded or integrated into our academic process that would endanger academic freedom or cause security risks," said Andrew Oppmann, a spokesman.
Funding to less-rich schools could have a greater impact than the tens of millions going to the Ivy League, said David Bergeron, a former deputy assistant secretary in the U.S. Department of Education.
"Big gifts to Harvard attract attention but smaller gifts to smaller institutions with fewer resources can have an impact on how they can approach the teachings related to that country," he said.
To contact the reporters on this story: Janet Lorin in New York at jlorin@bloomberg.net;Brandon Kochkodin in New York at bkochkodin@bloomberg.net
To contact the editors responsible for this story: Sam Mamudi at smamudi@bloomberg.net, Josh Friedman, Dan Reichl
Harvard Alum Gets the School Its First Super Bowl Touchdown