Gold Markets Are Being Haunted by Signs of Dislocation Again
Futures of the Yellow Metal scaled their highest level in seven years.
(Bloomberg) -- Gold prices that usually move in lockstep are diverging again, reviving fears of impending turmoil just a couple of weeks after the last bout of panic.
An ounce of bullion sold in New York was as much as $50 more expensive than in London Tuesday, compared with just a few dollars in normal times. The price spread is seen as a measure of the cost to swap futures contracts into gold in its physical form.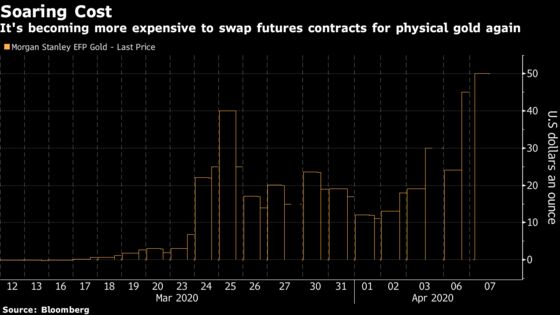 The spread blew out to similar levels about two weeks ago, as the coronavirus crisis disrupted supply chains and caused flight cancellations, leading to worries over a gold-bar shortage in New York just before April futures contracts became deliverable.
In the end, banks including JPMorgan Chase & Co. made more gold available and exchange inventories swelled to levels that were more than enough to cover any demands for delivery.
The resumption in price divergence shows, however, that investors are still worried about supply disruptions even though delivery for the current most-active futures contract -- June -- isn't due anytime soon.
"It is all supply logistics," said Jon Deane, chief executive officer of InfiniGold Pty Ltd. "When more refineries come back online in a couple of weeks I'd expect it to come back in line, at least back to a more normalized level. A lot of refineries are just not producing a product, or at reduced capacity right now due to COVID-19."
Indeed, three major plants in the Swiss canton of Ticino, Europe's biggest gold-refining hub, have said they've received permission from local authorities to run their factories at a limited rate. They were shut for almost two weeks because of the virus outbreak.
Gold futures for June on the Comex slid 0.6% to settle at $1,683.70 an ounce at 1:31 p.m. in New York, while spot bullion in London was at about $1,649.
The cost to swap gold futures to physical products is still high, which suggests that the market remains tight, according to Stephen Innes, chief global markets strategist at AxiCorp Ltd. A key thing to watch is whether that begins to ease as the Swiss refineries start running again.
To be sure, there's plenty of bullion available at the moment as part of Comex inventories.
Total deliverable stockpiles in Comex warehouses were 4.1 million ounces on Monday, compared with 1.8 million toward the end of March.
What's more, overall total stockpiles on the Comex were at a record 16 million ounces, according to bourse data. That includes bars of different sizes eligible for a new contract launched this week. Almost 12 million of those inventories meet exchange requirements to potentially become deliverable.
Still, traders say there's too much risk and they'd rather stay away from the market altogether at the moment, which is also exacerbating the price divergence.
"You have a bunch of shell-shocked market makers who are literally hiding under their desks and do not and possibly can not make markets in any size, shape or form," said David Govett, head of precious metals trading at Marex Spectron. "Hence we have the lack of liquidity, the small volumes and the wide spreads."
Last week, Comex volume in the most-active contract was 80.6 million ounces. That's a 72% drop from the end of February. Meanwhile, volume tracked by the London Bullion Market Association's LBMA-i service was about 165.1 million ounces last week, over half the late-February level.
Alongside volume, weekly open interest on the contracts was down 25% over the same month.