Platinum Stumbles After High With Caution on Recovery Outlook
Gold rose for a third straight session as investors awaited testimony from Federal Reserve Chair Jerome Powell.
(Bloomberg) -- Platinum had the biggest intraday drop in six weeks, extending a decline from a six-year high reached earlier this month amid concern that economic recovery prospects are already priced into some equities and metals.
Most precious and industrial metals slipped Tuesday, even as the dollar slipped. U.S. stocks pared the worst of their losses after Federal Reserve Chairman Jerome Powell signaled that the central bank was nowhere close to pulling back on its support for the U.S. economy.
Platinum rallied to the highest since 2014 this month on bets that a recovery in industrial demand and stricter emissions rules will tighten supply of the metal used to curb pollution from cars and trucks. Prices have since lost more than 7%, with some investors cashing out after the metal slipped back below the key $1,300 an ounce level, according to Carsten Fritsch, an analyst at Commerzbank AG.
Platinum's "failure to regain $1,300 caused profit taking," Fritsch said. The declines have been "driven by souring market sentiment, as visible in falling stock markets. It's worth noting that platinum and palladium rather behave like industrial metals sometimes, given their large industrial use."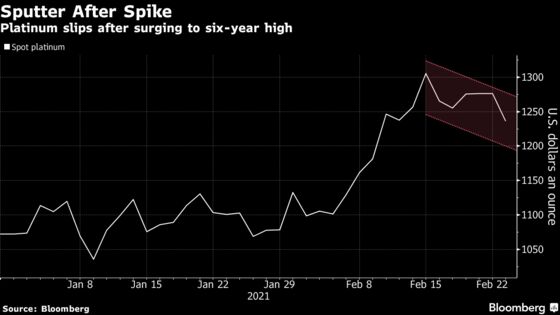 Spot platinum slid 2.6% to $1,242.51 an ounce at 3:15 p.m. in New York after falling as much as 4.9%, the biggest intraday drop since Jan. 11. Futures for April delivery on the New York Mercantile Exchange fell 3.3% to settle at $1,239.70 an ounce.
Gold swung after Powell's remarks. His semi-annual report at the Senate Banking Committee Tuesday and Wednesday at the House Financial Services panel will be monitored for further policy guidance and his assessment of the recovery.
Bullion has fluctuated after a decline last week as traders refocus on rising inflation expectations and the potentially massive economic stimulus. Holdings in bullion-backed exchange-traded funds have seen steady outflows, with SPDR Gold Shares, the largest ETF backed by the metal, on Monday registering the biggest drop since November.
Spot gold was down 0.2% at $1,805.98 an ounce. Palladium fell 2%, and silver was also down.
Related coverage:
Gold Is 'Losing Luster' to Cryptocurrencies, Citigroup Says
The Exodus From Gold ETFs Is Bad News for Prices