Spot Gold Heads for a Sixth Straight Gain as Bond Yields Slide
Gold climbed past $1,800 an ounce as Treasury yields declined ahead of the release of Federal Reserve meeting notes.
(Bloomberg) -- Gold headed for a sixth straight gain as Treasury yields fell ahead of the release of Federal Reserve meeting minutes that may bring fresh insight on U.S. monetary policy.
The yield on 10-year Treasuries fell for a second day, dropping to a more than four-month low, aiding non-interest-bearing bullion.
Gold has had a volatile year, notching its steepest drop last month since 2016 amid signs of a hawkish shift by the Fed. Since then, there have been tentative signs of a rebound, aided by softer inflation-adjusted Treasury yields. Traders will comb minutes from the U.S. central bank's June gathering for clues on policy makers' views on rates, bond purchasing and the economic outlook.
"Monetary policy is expected to remain loose as concerns about inflation and rapid economic growth fade," Naeem Aslam, chief market analyst at Ava Trade Ltd., said in a note.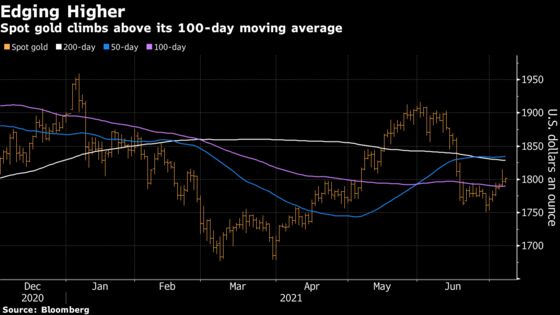 Spot gold rose 0.3% to $1,802.18 an ounce by 1:37 p.m. in New York. A sixth straight gain would be the longest rally since May 21. Futures for August delivery rose 0.4% to settle at $1,802.10 an ounce on the Comex. Spot silver and platinum fell, while palladium rose.
Ebbing inflation concerns and the outlook for loose monetary policy are among the reasons for the decline in bond yields, a scenario that may persuade institutional investors to hold gold and could push prices above $1,900, Aslam said.
With assistance from Bloomberg