German Economy Puts 2019 Pain Behind With Better New Year
The Germany economy took a big step to putting the horrors of 2019 behind it.
The German economy took a big step to putting the slump of 2019 behind it, opening the new year with a pickup in activity and business confidence.
A key gauge of economic performance published Friday echoed a slightly more positive tone emerging from the European Central Bank about the euro area, with President Christine Lagarde highlighting the ease in global trade tensions as well as "somewhat less pronounced" risk to the region's outlook.
ECB Governing Council member Francois Villeroy de Galhau told Bloomberg Television on Friday that there's been "some stabilization of the economic outlook."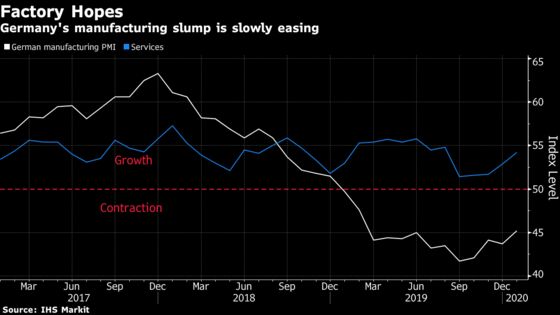 The economy's difficulties, which at one point tipped it close to recession, led to a wave of calls for the government to deploy fiscal spending, something it's resisted. Germany already had an expansionary fiscal policy, and a strong budget result last year would allow it to continue that path, Finance Minister Olaf Scholz said on Friday.
"Germany has now one of the highest investment figures we ever had in history," Scholz told Bloomberg Television. "Now with the surplus we have all the possibility to be strong in this field as anyone asks us to be and as we really want ourselves."
His statements come after last year's record budget surplus prompted business leaders and politicians, including Economy Minister Peter Altmaier, to step up calls for a cut in corporate taxes.
IHS Markit's composite Purchasing Managers' Index for Germany rose to a five-month high of 51.1 in January, beating forecasts for a 50.5 reading. While manufacturing is still shrinking, the pace of contraction was less severe than economists had predicted.
Amid a thawing of U.S.-China trade tensions, there are hopes that Europe's largest economy is through the worst of its slump. A major upturn isn't in the cards for this year, but the stabilization alone is good news for an economy that took a beating in 2019.
Confidence in both services and manufacturing strengthened this month, with factories the most upbeat in almost 1 1/2 years.
"The storm clouds over the German economy may be starting to clear," said Phil Smith, an economist at IHS Markit.
Scholz too said that easing trade tension improved the economic outlook.
"This is very important because they are the main reason for the slower growth we have at this time in the world," the 61-year-old Social Democrat said.
Figures earlier on Friday showed more downbeat numbers in France, where strikes hit the services sector. But that drag will probably fade, reflected in an improvement in optimism at firms. The composite number for the euro area was unchanged at 50.9, suggesting "muted" economic growth.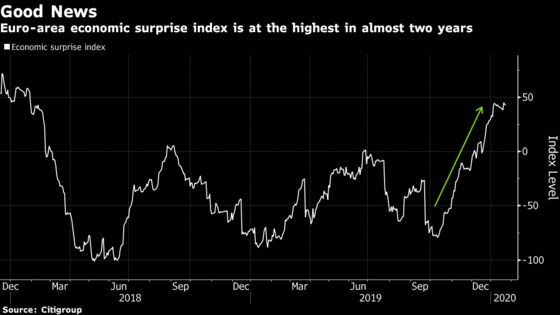 There's also still a risk that Europe could be dragged into its own trade war with the U.S. Germany would be particularly hard hit, with Donald Trump threatening to impose levies on cars, a key part of the country's industry.
Germany's services PMI rose to 54.2 in January from 52.9 in December. While the factory measure still points to contraction, it's gained for three of the past four months and currently stands at an 11-month high.
Forward-looking indicators also provided reasons for hope. New business across the private sector rose for the first time in seven months, while the decline in manufacturing orders eased to the least in 15 months.
--With assistance from Harumi Ichikura, Mark Evans, Chad Thomas and Andrew Atkinson.
To contact the reporter on this story: Fergal O'Brien in Zurich at fobrien@bloomberg.net
To contact the editors responsible for this story: Fergal O'Brien at fobrien@bloomberg.net, Alaa Shahine, Raymond Colitt