Germany's New Budget Reality Clouds Outlook for Investments
Germany might want to reinvent the economy, but its small steps toward loosening strict limits on borrowing may fall short.
Germany's new government wants to reinvent the economy, but its small steps toward loosening strict limits on borrowing are likely to fall short on what's needed to achieve that ambition. 
While the coalition deal reached last week between the Social Democrats, Greens and Free Democrats also includes plans to ramp up climate-related investments and support a review of European Union-mandated spending limits, it kept much of the country's previous fiscal regime intact while leaving much still to be debated.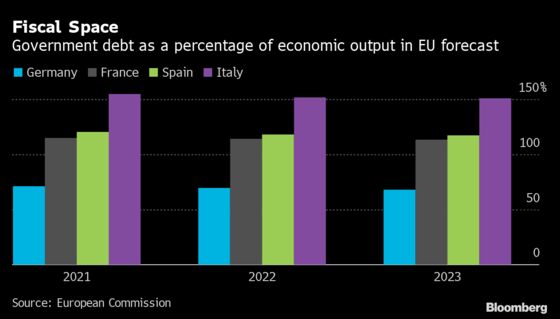 The sum of compromises in the 177-page agreement amount to only a cautious departure from a straitjacket which includes a constitutionally enshrined brake on debt, according to economists. Free Democrat Leader Christian Lindner's impending appointment as finance minister also means a budget hawk will now be overseeing it all. 
The result is that the massive climate-related and digital spending that political leaders reckon Europe's biggest economy needs can't really be reconciled with the current fiscal rules. While the deal moves Germany further away from its so-called "black zero" balanced-budget mantra of the last decade, it doesn't go much further.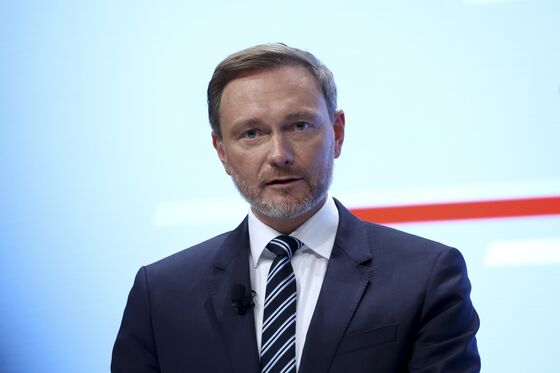 "There's less belief in the orthodoxy of the black zero, but they're also not so sure where they want to go and are trying out a few things," said Philippa Sigl-Gloeckner, head of the Dezernat Zukunft think tank in Berlin that had pushed for reform of the nation's debt limits in the run-up to the election. 
The coalition agreement foresees a return to the debt brake in 2023, though shaped by a review of a technical feature of the rule that might boost fiscal wiggle room. 
Other maneuvers may also see tens of billions of euros moved into a fund to finance Germany's green transition. But even so, the government can't claim some sort of investment-led exception to the debt brake, conforming to the Free Democrat view that the private sector should play its part instead. 
"We're not creating shadow budgets," Lindner told ARD Television earlier this month. "The main thing is to activate private investment funds -- also to activate them by providing particularly favorable promotional loans."
His comments hint at how the pro-business FDP has prevailed against the Greens' ambition to completely retool the economy via a ramp-up in investment. Much of the Social Democrats also wanted a spending binge, though Scholz himself campaigned on a fiscally conservative platform. 
On Tuesday, minutes before a reading showed euro-area inflation jumping to 4.9% in November, Lindner tweeted his support for "solid public finances" in Europe and Germany, as excessive deficits would limit the European Central Bank's ability to "fight inflation if needed." 
Knowing Lindner's conservative preference for stable finances and cutting burdens on business, Nobel laureate economist Joseph Stiglitz and Adam Tooze, a professor of history at Columbia University in New York, had publicly warned against his appointment. 
The 42-year old has tried to moderate some positions and has struck a conciliatory tone. "There won't be any tax increases and we'll respect the debt brake from 2023, but with our ambition, we'll finance many good projects," he told public broadcaster ZDF. 
Oliver Rakau, chief German economist at Oxford Economics, isn't so sure the government will use any new fiscal space. Because of constraints like labor shortages and backed-up construction companies, "we remain skeptical that the coalition will manage to quickly deploy all those funds even if they fully exploit all avenues," he said. 
The coalition plans do mean Germany may be able to roughly triple its budget deficit to about 1% of economic output between 2023 and 2025, said Katharina Utermoehl, an economist at Allianz SE. 
The plans "will allow for a more expansionary fiscal policy in the coming years," she said. "But overall Germany will not ascend to a completely different fiscal league."  
For Karsten Junius, economist at Bank J. Safra Sarasin Ltd., the way the agreement does allow Germany to erode some of its fiscal regime suggests that it has picked up a thing or two from its neighbors. 
"It's a typical European approach that the Germans have finally learned," he said. "You stick to certain principles, but you also find your way around them."
The coalition deal matters for the euro area on a practical level, as it addresses ongoing reforms of European Union spending limits. That framework limits deficits to 3% of economic output and public debt to 60% -- goalposts viewed by many as unrealistic now.
"It's not reasonable to have -- on the same page -- uncertainty, concern about new variants, the consequences of this situation and a message of tightened fiscal policy," Paolo Gentiloni, EU commissioner for the economy, said in a Bloomberg Television interview on Tuesday. 
The coalition agreement states that the new government wants to "strengthen and deepen" that so-called Stability and Growth pact, while ensuring growth and sustainability of public finances. 
"Europe doesn't have to be scared," Oxford Economics' Rakau said. While the new government won't work to abolish the EU's fiscal framework, he said, "they will support changes to make it more flexible, and avoid overly strict austerity in the coming years."