Germany's Deep Fiscal Pockets Are Keeping a Recovery in Sight
Germany Pins Hopes for 2021 Rebound on Economy Propped Up by Aid
(Bloomberg) -- Germany's economy is limping into 2021 heavily bruised by the pandemic, deeply reliant on government aid -- and in better shape than most of the euro zone.
The nation will probably say on Thursday that gross domestic product contracted less than 6% last year, and may signal that it actually grew in the final quarter. In contrast, economists estimate full-year declines of around 9% for France and Italy and more than 11% for Spain.
While the first quarter of this year has started poorly, with lockdowns extended and the euro zone as a whole headed into a double-dip recession, Germany's Bundesbank is staying optimistic that a steady recovery will kick in as vaccinations rise.
How Europe's largest economy has pulled through so far is reflected in companies like Munich-based Dr. Sasse AG, which employs almost 7,000 workers offering facilities and cleaning services in four countries. Despite taking as much as a 10% hit to sales last year and putting swathes of its workforce on shorter hours, its founder says they've survived "with a black eye."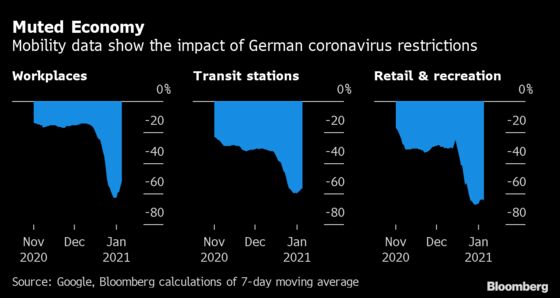 Click here for Bloomberg's suite of real-time indicators of the global recovery
"The next few years are going to be very demanding as well," Eberhard Sasse, who is also president of the Association of Bavarian Chambers of Industry and Commerce, said in an interview. "2021 won't be a year of crisis, but one where we're going to have to drive change very actively."
When Chancellor Angela Merkel pledged last March to do "whatever Germany needs" to get through the coronavirus pandemic, Sasse recorded a video message -- with his wife and two daughters -- telling employees of the family-owned firm he would mobilize all financial resources available to ensure survival.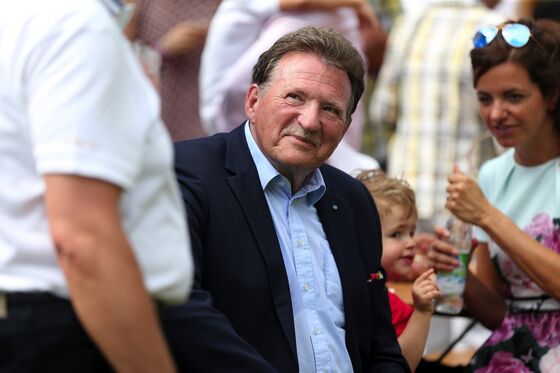 What that meant was massive reliance on government support to pay wages, and a refocusing of operations to pull in revenue wherever possible.
That's helped by one of the region's most generous fiscal packages, described by Finance Minister Olaf Scholz as having "oomph." The "kurzarbeit" program spent 22.1 billion euros ($27 billion) last year subsidizing payroll for companies working at reduced levels.
Such support will have to continue. Restaurants, hotels and non-essential shops will remain closed until at least the end of January, and people in virus hot spots are confined to a 15-kilometer (9-mile) radius around their homes.
On Tuesday, Merkel privately warned that another 10 weeks of lockdown might be necessary to curb the new variant of the coronavirus currently driving higher infection numbers.
But Germany's manufacturing sector, which makes up about a fifth of the economy and has boosted output when services turned into a major drag, has played a significant part in cushioning the blow. It'll also help drive the recovery when global demand rebounds.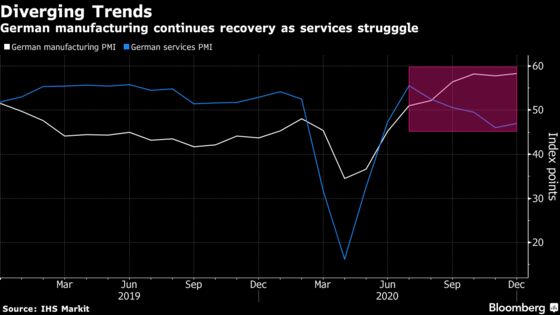 Surveys by IHS Markit have shown "historically high" optimism for factory output in the current year. Bundesbank President Jens Weidmann says there's no reason yet to give up on projections that the economy will expand 3% this year, and most recent private-sector forecasts foresee an even stronger rebound.
Sasse saw sharp divergences between his divisions. With flights grounded because of the pandemic and traffic recovering only very slowly, the unit that services airports including Frankfurt, Munich and Edinburgh has suffered badly.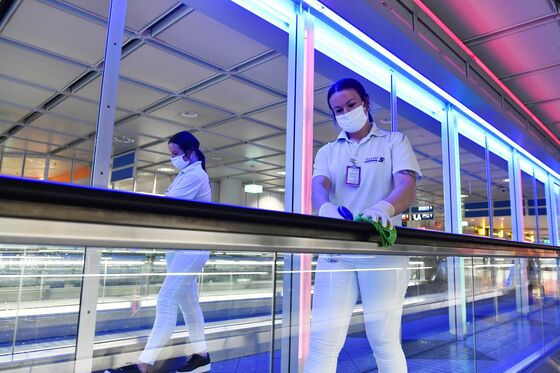 At the height of the crisis, about half of the nearly 900 employees that are usually busy staffing departure gates or supporting security clearance were on shorter hours. Most but not all of the damage was absorbed by the kurzarbeit program.
The company also ran down overtime accounts, asked workers to take vacation during the worst periods of lockdown and reassigned staff to other parts of the business.
That meant throwing all the effort once more behind the cleaning business that he started in 1976. Retirement homes, hospitals, schools, offices, buses and trains all suddenly needed new hygiene protocols and frequent disinfecting.
The fear that the expected rebound in 2021 will disappoint still suffuses parts of Germany. Some economists have warned that 2021 could turn into a "year of disillusionment."
"People have realized that the economic crisis won't be overcome any time soon because of the ongoing second wave of infections," German Institute for Economic Research President Marcel Fratzscher wrote in a Jan. 4 blog post. A "vicious cycle" of company failures, higher unemployment and weak demand "could materialize much more easily than many realize."
Two thirds of German inner-city retailers see a risk of failure, according to a survey by industry association HDE, and three out of four said government aid isn't sufficient to avoid bankruptcy. While the sector lost 36 billion euros in sales last year, only 90 million euros in direct aid were paid out, it said.
The risk is that such weaknesses, coupled with higher unemployment, will start spilling into manufacturing, diminishing the sector's ability to power the rest of the economy.
Sasse said businesses in his region are hopeful that manufacturing will help the economy pick up. For his own company, he'd be happy as long as sales remain steady, allowing him to continue with digitalization projects to make the business future-proof.
"The coronavirus pandemic will be very much a catalyst for change," he said. "Much like the rest of the German economy, we can't simply sit and wait for the crisis to be over."
Get Your
Daily Newsletter
Get market moving news, top news & compelling perspectives
---