Confidence in Germany's Recovery Slips Amid New Virus Hurdles
German Factory Orders Unexpectedly Drop as Car Sales Slump
(Bloomberg) -- Investor confidence in Germany's economic recovery eased in July as supply bottlenecks weigh on manufacturing and spreading coronavirus variants threaten the revival in services.
A ZEW gauge of expectations slipped to 63.3 from 79.8, the lowest since January and below all estimates in a Bloomberg survey. Still, a measure of current conditions turned positive for the first time in two years, indicating more respondents described the situation as good than bad.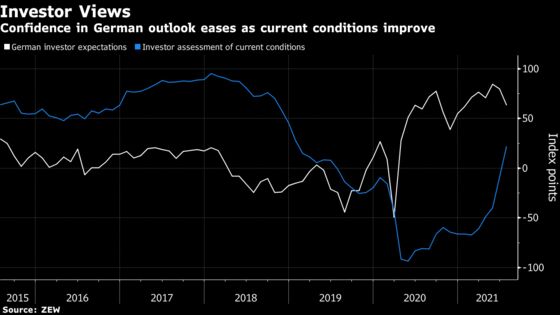 "Germany has clearly overcome the coronavirus-related decline," ZEW President Professor Achim Wambach said in a statement. Although the expectations index "has once again fallen significantly, it is still at a very high level."
Recent data have signaled a bumpy road ahead. Manufacturers unexpectedly saw demand declining in May amid weak export orders for cars. Industrial production probably increased 0.5%, according to a survey before data on Wednesday.
German companies are battling with unprecedented supply-chain problems as a result of a sudden surge in global activity following the end of coronavirus lockdowns, a trend which is also driving up prices amid competition for inputs and raw materials. While some of those bottlenecks may have started to ease, it's likely to take time for disruptions to pass.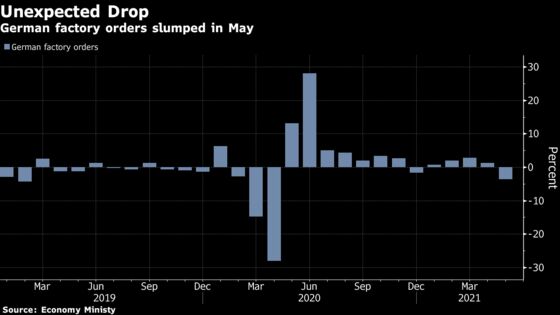 More infectious virus strains risk jeopardizing the recovery if rising cases trigger new restrictions. The country's service sector has only just started bolstering momentum with the reopenings of restaurants, shops, and cultural venues.
Business confidence climbed in June though, to the strongest in more than two years and the number of workers on state wage support fell to 1.5 million from 2.3 million -- the lowest since February last year. The Bundesbank predicts the German economy, Europe's largest, will grow 3.7% in 2021, reaching pre-pandemic levels as soon as this summer.
In the euro area, retail sales surged 4.6% in May, and European Central Bank Governing Council membeer Pablo Hernandez de Cos said Tuesday growth in the region will be "rather robust" in the coming quarters.