G-7 Finance Chiefs, Central Bankers Plan Virus Call Tuesday
The world's top finance ministers will lead a global teleconference on Tuesday to to weigh virus response
The world's top finance ministers will lead a global teleconference on Tuesday to discuss their response to the economic threat posed by the coronavirus, according to people familiar with the matter.
The call will take place at 1 p.m. Paris time, according to the French finance minister's agenda. The ministers will be joined by their central bank governors, the people said on condition of anonymity to discuss the plans. As host country for the G7 meeting in April this year, U.S. Treasury Secretary Steven Mnuchin will play a lead role in the call.
The meeting by representatives of the Group of Seven industrialized nations marks mounting concern that the disease is doing major damage to the global economy as it shuts factories, disrupts supply lines and curtails travel. U.S. stocks surged on the news, with the S&P 500 rising to session highs, up more than 2% on the day. Panic over the outbreak last week pushed the index more than 10% below the record it reached just two weeks ago.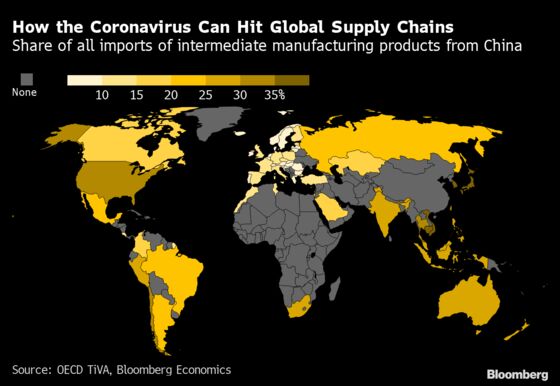 France's Finance Minister Bruno Le Maire said on Monday that there will be "concerted action" as ministers need to ensure that their responses are as coordinated as possible in order to be effective.
"We emphasize the need for a global whole of government response that spans public health policy, fiscal policy and monetary policy in each jurisdiction," Krishna Guha, head of central bank strategy at Evercore ISI, said in a note. "The G7 call can help in this regard."
The OECD said it expects the weakest global growth this year since the 2009 crisis, and that a "long lasting" epidemic would risk a worldwide recession. Factory activity in China, where the outbreak started, fell to the weakest level since at least 2004.
The crisis is also disrupting gatherings of economic policy makers. The International Monetary Fund is seriously considering canceling the public portion of its spring meeting, scheduled to take place in Washington the week of April 13. If the meetings are canceled, the IMF might hold key sessions via teleconference during that week, according to two people familiar with the matter.
The IMF is expected to announce a decision this week, they said. Staff are being directed to curb attending large gatherings and travel amid the virus threat, the people said.
The U.S. Treasury is also undertaking contingency plans in case it decides to cancel the public portion of the G-7 finance ministers meeting scheduled in Philadelphia between April 13-15, according to a person familiar with the matter. The ECB postponed a conference it was due to hold on Tuesday, citing withdrawals by delegates.
--With assistance from Birgit Jennen, Alessandro Speciale, Saleha Mohsin and Eric Martin.
To contact the reporters on this story: William Horobin in Paris at whorobin@bloomberg.net;Theophilos Argitis in Ottawa at targitis@bloomberg.net;Jana Randow in Frankfurt at jrandow@bloomberg.net
To contact the editors responsible for this story: Alaa Shahine at asalha@bloomberg.net, Fergal O'Brien