Furloughed Workers in Germany Are Starting to Return Full Time
Some of Germany's furloughed workers are beginning to return to work full time, according to a survey by the Ifo Institute.
The number of people working reduced hours fell to 6.7 million in June from 7.3 million the previous month, a report published Tuesday showed. Hospitality, transport and retail were among sectors experiencing the greatest drops after reopenings and a loosening of health and safety rules allowed those businesses to see an up-tick in demand.
In large parts of the country's powerful manufacturing sector, however, furloughs continued to rise.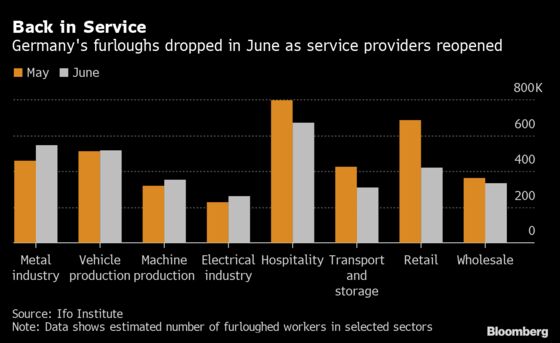 "The decline is quite slow, and in some sectors short-time work is even increasing," said Ifo labor market expert Sebastian Link. Furloughs among metal industry workers, for instance, jumped to 48% in June from 40% in May.
A state program designed to prevent widespread dismissals initially saw applications for more than 10 million workers in March and April, when pandemic restrictions were the most stringent. At the height of the global financial crisis in 2009, the support measure was only used for some 1.5 million workers.