French Inflation Hits Highest Rate in More Than a Decade
French inflation accelerated in November to the quickest pace in more than a decade as surging energy and manufactured goods prices offset a fall in fresh food costs.
After Germany recorded a 6% surge in prices in the same period, the inflation data for the euro area's second largest economy adds to concerns over the European Central Bank's insistence that the spike in costs for consumers and businesses will prove temporary. While France's rate was lower at 3.4%, it was above economist expectations and the biggest year-on-year increase since 2008. The euro-area reading is due later on Tuesday.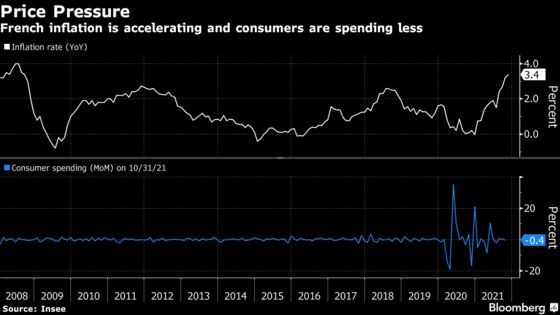 The French government has already moved to support households by capping energy prices and handing out checks to more than 38 million people. But with the recovery from the Covid pandemic still in early stages, French officials are urging the ECB not to react to inflation by tightening policy.
"This inflation for us today is temporary, it is linked to strong demand, itself linked to a recovery that is much stronger than we anticipated," Finance Minister Bruno Le Maire said on Radio Notre Dame. "What would harm growth is to change policy, to suddenly say this inflation is extremely high, we need to react immediately. So we have to limit monetary policy."
A separate data release on Tuesday showed that consumer spending contracted unexpectedly in October, adding to concerns over how households will respond to stronger inflation. Overall spending fell 0.4% month on month with a 1.8% decline in outlays for manufactured goods.