French Government Sees Economy Shrinking 11% This Year
French Government Sees Ecoonomy Shrinking 11% This Year
(Bloomberg) -- France will push on with tax-cut plans and broad economic overhauls to help the country rebound from a recession that will be deeper than previously anticipated, Finance Minister Bruno Le Maire said.
The economy will shrink 11% this year, more than the 8% previously predicted. Le Maire said that means France must continue with emergency support and pro-business reforms, and not raise taxes that could choke off growth.
"The economy was almost stopped for three months and we will pay for it in growth," Le Maire said on RTL radio. "We need to stay the course of reducing tax for households and giving businesses the margin to digitize, robotize and innovate."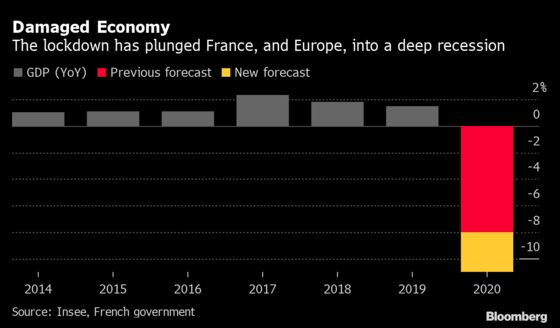 Le Maire's comments play into a debate about how governments cover the huge cost of the stimulus they've had to implement to protect workers and jobs during the coronavirus lockdowns. The billions they've spent have pushed up borrowing, raising the question of how to pay the bill.
"There is no question of us raising taxes," Le Maire said. "Yes, debt will have to be paid back, but not by raising taxes, by raising growth."
After shutdowns to contain the virus outbreak, governments around Europe are now fine tuning measures to protect companies and jobs, and working on how to reboot their economies in the aftermath.
Le Maire said a solidarity fund will be extended to the end of the year to help the worst-affected companies such as restaurants to pay rent, and the government will phase out its furlough program only gradually. It's has also announced specific support plans for the car and tourism industries and will detail plans for the aircraft industry next week.
"Economically and socially, the hardest times are ahead of us," Le Maire said. "The shock of the crisis was extremely violent in France."
In September, Le Maire will present another stimulus plan that he said would cut high taxes French companies pay based on production -- a reform that was debated before the pandemic struck.
The French government's 2020 GDP prediction compares with official forecasts of a 6.3% contraction for Germany and a 8% slump in Italy. Today's number is also worse than the 9% contraction estimated by economists in a Bloomberg survey. The revision reflects the ongoing attempt by forecasters to figure out the impact of the unprecedented shutdown of economies.
The European Central Bank is due to update its outlook for the euro-area economy at its policy meeting on Thursday. With the recession looking deeper than expected, President Christine Lagarde has said it looks like 2020 will be closer to the ECB's more pessimistic scenario. That means a contraction of between 8% and 12%.