Foreigners Sell India Bonds at Record Pace as Oil Deepens Woes
(Bloomberg) -- Foreign investors are dumping Indian bonds at a record pace as surging oil prices threaten to worsen the nation's finances, stoke inflation and hurt the fastest pace of economic growth among world's major economies.
Overseas funds pulled $4.5 billion from the domestic debt market since Jan. 1, the most in any year-to-date period in data going back to 1999. Second-quarter outflow was the biggest among the major Asian nations as Brent crude rose above $80 a barrel, the highest since 2014.
Every $10 per barrel increase in oil prices will worsen India's current-account balance by 0.4 percent of gross domestic product and raise inflation by 30-40 basis points, according to Nomura Holdings Inc. Standard Chartered estimates inflation to climb 20-40 basis points and the fiscal deficit to widen by 0.1-0.4 percentage points of GDP. High crude prices have also roiled financial markets of other oil-importing nations in Asia, including Indonesia.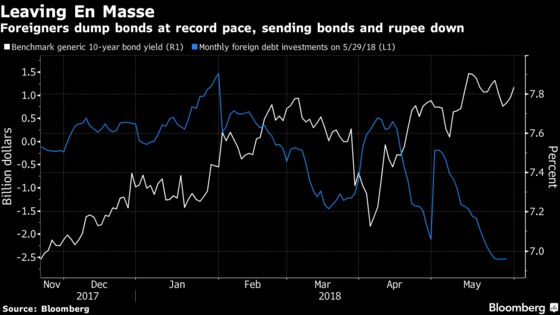 "Concerns about rising inflation and fiscal dynamics, in conjunction with lack of demand from key market participants, have contributed to the move higher in yields," said Stuart Ritson, Singapore-based head of Asian rates and foreign exchange at Aviva Investors, which oversees about $482 billion. "More recently, this has been coupled with a less supportive macro backdrop of a rising dollar and higher oil prices."
Indian sovereign bonds declined in May for the ninth month out of 10 as overseas investors dumped $2.6 billion of rupee-denominated bonds. The selling spree resulted in the rupee's worst performance in Asia this year after Philippine's peso, sliding 4.8 percent against the dollar. The benchmark 10-year yield is up 52 basis points since end of 2017.
While India's economy expanded 7.7 percent in the March quarter -- the fastest pace among the major growing economies -- elevated oil prices pose risks to consumer prices and future growth prospects.
Amundi SA, Europe's largest asset manager, said last week they have reduced exposure to Indian government bonds. Pacific Investment Management Co. said they are "cautious on both the rupee and duration in India."
The foreign exodus marked a sharp U-turn from 2017 when overseas investors plowed $23 billion into Indian bonds, the most in three years. Aside from worries of wider fiscal deficit and inflation, the local debt markets have been crippled by a lack of market participants as state-run banks, the biggest buyers of such securities, lie low due to losses.
To contact the reporter on this story: Kartik Goyal in Mumbai at kgoyal@bloomberg.net
To contact the editors responsible for this story: Tan Hwee Ann at hatan@bloomberg.net, Patricia Lui, Ravil Shirodkar