For a Glimpse at What Reopening Looks Like, Head to Waffle House
The company that's barely flinched during hurricane season is preparing for its biggest test yet
Steve Economos has been visiting Waffle House religiously for 15 years, and he's not about to let fears of Covid-19 stop him.
"Waffle House never closes -- rain, hurricanes," said Economos, grabbing takeout Monday at a unit in Georgia which had just opened for sit-down service.
He's waiting another week or so before exploring that option: "I think my wife and I will go in first before the kids."
Waffle House has a reputation for hardiness, so it surprised no one familiar with the restaurant chain that it would be among the first to embrace Georgia Governor Brian Kemp's plan to reopen the economy. But after closing more than 700 locations of its nearly-2,000 outlets across the U.S. because of the coronavirus outbreak, the company that's barely flinched during hurricane season is preparing for its biggest test yet.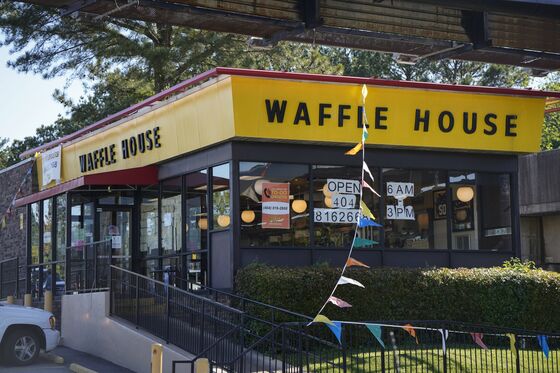 "We always have a contingency plan," said Njeri Boss, a spokeswoman for the Norcross, Georgia-based company. "We're just going to have to adapt as we see whether customers return or not"
Kemp drew scorn from many critics around the nation by allowing gyms, hairdressers, nail salons and bowling alleys to reopen April 24, while expanding that to include restaurants and movie theaters three days later. The decision was met with a mixed response within Georgia, where the mayor of Atlanta said she was "dumbfounded" by the move, but some small business owners said they were relieved to be working again.
Georgia's plan was designed by a 20-person committee that includes Waffle House Executive Vice President Joe Rogers III.
Aside from their renown as a late-night hangout for inebriated partiers, the company's restaurants are famous for their resilience before and after storms -- so much so that federal emergency management officials have sometimes gauged the severity of a storm by whether Waffle House stays open.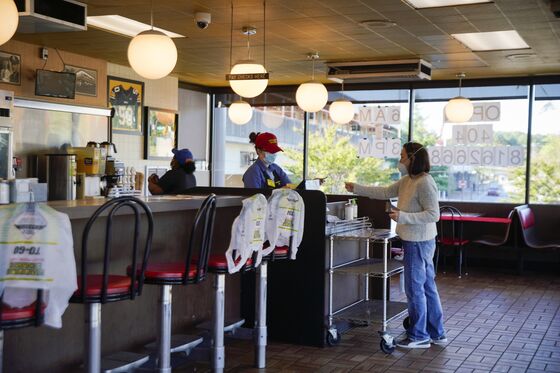 The company kept about 1,250 of its restaurants open for takeout and delivery since the pandemic started, Boss said. Around 330 units in Georgia and 70 in Tennessee -- which also has been reopening some parts of its economy -- added dine-in service today.
To be sure, things were proceeding slowly. Three people came into a suburban Atlanta unit for takeout orders over a span of an hour Monday morning, but no one sat down. Waffle House employees joked that customers may have been scared off by the horde of news crews gathered outside to record the scene. A couple miles away at another Waffle House, two people sat at the counter as another man unfurled a newspaper at a booth.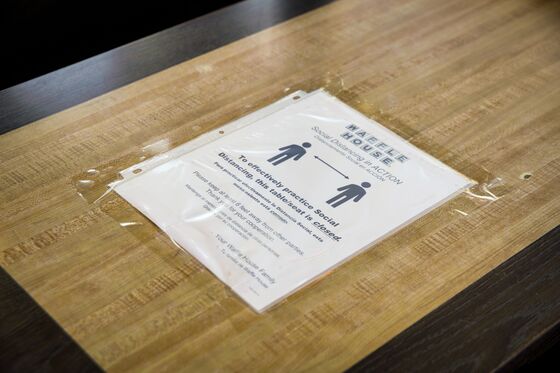 The staff placed plastic bags over the backs of four of the six stools at the front counter to keep people apart, while sealing off certain booths with red tape. The traditional place-mat menus with their lists of smothered hashbrowns, eggs and biscuits aren't on tables anymore, though customers can get paper ones or request the plastic variety. Every location will enforce its own capacity limit that will depend on its layout, with signs posted on the door for customers' reference, Boss said.
Employees will frequently sanitize common touch points from the tables to jukeboxes and turn away customers who are sick or showing any symptoms of illness, she said.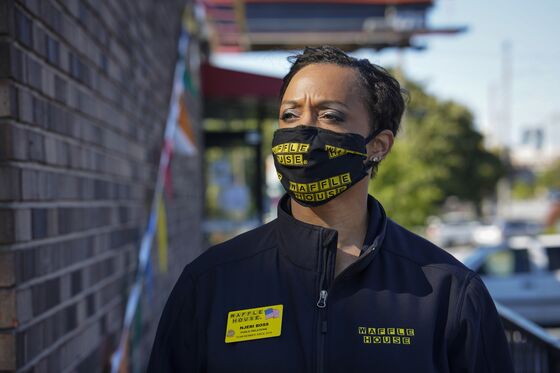 "We weren't expecting that we were going to be overwhelmed with customer demand right away," she said. "We knew it was going to take some time."
Read More: 'I Am in a Catch-22': Main Street Is Ambivalent About Reopening
Gym, Salon Customers Defy Virus in First State to Ease Lockdown