Fed Officials Debated Hiking Rates to Restrictive Territory
Federal Reserve officials stepped deeper into a debate over how high to push interest rates.
(Bloomberg) -- Federal Reserve officials stepped deeper into a debate over how high to push interest rates, as a majority favored an eventual and temporary move above the level they deem neutral for the economy in the long run.
The clearest summary of policy makers' views, unusually, appeared not in the minutes to the Sept. 25-26 policy meeting, which were released Wednesday in Washington, but in the accompanying notes to officials' most recent economic projections.
"A substantial majority of participants expected that the year-end 2020 and 2021 federal funds rate would be above their estimates of the longer-run rate," according to the document.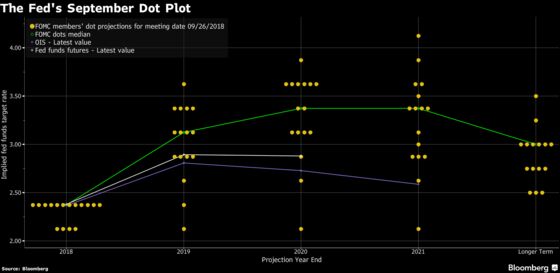 Those long-run estimates typically reflect where officials believe interest rates will neither stimulate nor hold back the economy. In their most recent projections, officials' median estimate for that neutral level was 3 percent.
The committee was otherwise in broad agreement over continuing on the current, gradual path of rate increases. The record showed "all participants" backed the Sept. 26 quarter-percentage point hike to a range of 2 percent to 2.25 percent.
The release of the minutes comes three weeks after central bankers signaled their intention to hike again before year end. Chairman Jerome Powell has said he's trying to balance the risks of allowing the economy to overheat by moving too slowly, and smothering the second longest economic expansion on record by hiking too quickly.
The Fed's tightening has drawn criticism from President Donald Trump, who blamed it for the stock market decline last week. The minutes revealed no discussion among policy makers of the president's remarks and no sign they had influenced their outlook for rates.
"Participants generally anticipated that further gradual increases in the target range for the federal funds rate would most likely be consistent with a sustained economic expansion, strong labor market conditions and inflation near 2 percent over the medium term," according to the minutes.
"It was a pretty quiet set of minutes; the economy is still on track," said Yale University professor William English, who stepped down as a special adviser to the Fed board last year. "My underlying sense is they're going to raise rates gradually and want to look at how the economy is doing."
According to Robert Martin, an executive director at UBS Securities LLC in New York, the minutes bore Powell's imprint in the way they de-emphasized estimates of the neutral interest rate as a guiding policy force.
The record described estimates of the neutral rate as "only one among many factors that the committee would consider in making its policy decisions."
"There is no way of knowing what the neutral rate is ahead of time," said Martin, a former Fed staff economist. "The committee is coming around to the view that the way you get there is feeling your way forward. We describe it as driving by braille."
What Our Economists Say
The very nature of this discussion depicts a monetary policy committee treading carefully as it normalizes interest rates. Officials are still confident that a gradual approach remains appropriate, but they are highly attuned to signals of economic strain.

-- Carl Riccadonna, Yelena Shulyatyeva and Tim Mahedy 
Confidence, nonetheless, appeared to be growing among officials that inflation would remain near their 2 percent target. Recent data on consumer prices was "consistent with their expectation that inflation was on a trajectory to achieve the committee's symmetric 2 percent objective on a sustained basis," the minutes said.
After falling short of that target for most of the past six years, the Fed's preferred measure of inflation has now met or exceeded 2 percent for six straight months.
The record showed Fed officials again held a lengthy discussion over the effects on the economy of ongoing trade disputes, particularly for crimping investment plans.
Despite that, analysis from the Fed's staff suggested the trade war with China would have "only small net effect" on U.S. economic growth over the next few years.
On the question of how high rates would go, the minutes presented a somewhat convoluted review of policy makers' views.
"A few participants expected that policy would need to become modestly restrictive for a time and a number judged that it would be necessary to temporarily raise the federal funds rate above their assessments of its longer-run level," according to the minutes.
Those lines provoked a variety of explanations from Fed watchers over whether those two groups of Fed officials were drawing a substantive distinction between their views, or simply describing the same views in different ways.
Jacob Oubina, senior U.S. economist at RBC Capital Markets LLC, said it's possible the latter group is drawing a line between the short-run neutral rate, driven by cyclical conditions, and the longer-run neutral that depended more on structural economic factors.
"In that conversation, you could sort of have your cake and eat it too, depending on what neutral you're looking at," he said.
A "couple" of FOMC members, meanwhile, argued against adopting a restrictive policy "in the absence of clear signs of an overheating economy and rising inflation," according to the minutes.
Regarding issues of financial stability, some officials expressed concern about growth in and relaxed standards for leveraged loans as "reasons to remain mindful of vulnerabilities and possible risks to financial stability."
Powell and some of his colleagues have noted that the greater risk associated with overheating the economy may come through financial-market excesses rather than inflation.
--With assistance from Jeanna Smialek and Craig Torres.
To contact the reporter on this story: Christopher Condon in Washington at ccondon4@bloomberg.net
To contact the editors responsible for this story: Brendan Murray at brmurray@bloomberg.net, Randy Woods, Alister Bull
Get Your
Daily Newsletter
Get market moving news, top news & compelling perspectives
---