Euro-Area Inflation Turns Negative in Worrying Sign for ECB
Euro-Area Inflation Rate Goes Negative for First Time Since 2016
(Bloomberg) -- Consumer prices in the 19-nation euro area are falling for the first time in four years, highlighting that a recent rebound in economic activity hasn't managed to offset the pandemic's profound impact on demand.
The inflation rate came in at -0.2%, missing economists' median estimate for a reading of +0.2%. Core inflation hit a record low, in part dragged lower by discounting during summer sales.
The European Central Bank had warned that inflation would weaken, but the negative reading will still sound the alarm for policy makers who have tried to soften the shock unleashed by the coronavirus.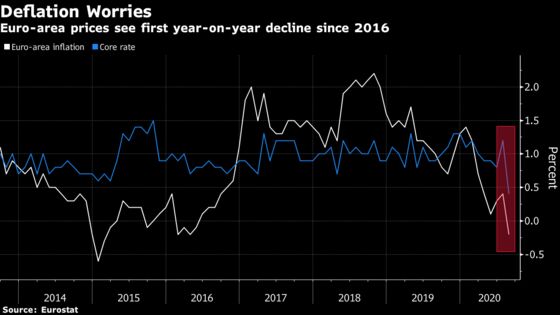 "This is a serious issue for the ECB," said Nick Kounis, an economist at ABN Amro Bank NV. "We're clearly seeing pretty aggressive disinflation, and there's plenty more to come. Unemployment is on the way up, wage growth is coming down, and there's going to be a lot of spare capacity in the economy for a long time to come."
The risk for the ECB is that the price picture doesn't improve. In a warning sign for what lies ahead, a separate release from IHS Markit showed that European factories lowered prices for a 14th straight month amid sluggish demand. They also cut jobs, and reduced inventories of raw materials and semi-manufactured stocks instead of ordering supplies.
While consumption and industrial activity have improved in the euro area since lockdowns were relaxed, weak inflation pressures and the threat of unemployment provide a gloomy backdrop for the ECB's policy meeting next week. Another likely source of concern is the euro, which has risen more than 7% over the last six months.
The currency gained on Tuesday, and was up 0.3% at $1.1974 at 12:04 p.m. Frankfurt time.
What Bloomberg's Economists Say...

"The summer sales effect should reverse in September, lifting the inflation rate a touch. Still, price pressures are due to remain subdued, adding to concerns at the European Central Bank that a lingering weakness in demand will create downside risks to inflation."

--Maeva Cousin. Read the full REACT
ECB officials have already pledged more than 1 trillion euros ($1.2 trillion) worth of bond purchases through June next year in order to keep borrowing costs low. Whether or not more is in the cards is yet to be seen.
ECB chief economist Philip Lane said last week that the next step after fighting the shock is to stimulate inflation, and that policy makers stand ready to do more if needed. Executive Board member Isabel Schnabel said in an interview published Monday that incoming data don't suggest a need for further action now.
In some better news on Tuesday, the German government said the damage from the pandemic on Europe's largest economy will be less than previously feared. It's now predicting a 5.8% contraction, compared 6.3% in April, though it also downgraded its prediction for a 2021 rebound.
Uncertainty remains high that resurgent infections in many parts of the region will prompt new restrictions, keeping spending and investment restrained.
"Manufacturing is currently being buoyed by a wave of pent up demand, but capacity is being scaled back," said IHS Markit's Chris Williamson. "The next few months' data will be all-important in assessing the sustainability of the upturn."