Iran Chided for Stalling Nuclear Probe Before Vienna Talks
(Bloomberg) -- The European Union and U.S. said they're deeply concerned about Iran's failure to clarify the source of nuclear material found at several undeclared facilities, and urged Tehran to fully cooperate with the International Atomic Energy Agency.
The rebuke could shadow a sixth round of talks aimed at restoring the 2015 nuclear deal that limited Iran's atomic activity due to start soon in Vienna. The EU statement on its website expressed "deep regret" that Iran hasn't provided the IAEA with an explanation for atomic activity at undeclared locations.
Iran's obligations under its safeguards agreement with the IAEA are separate from the extra monitoring measures set out by its nuclear pact with world powers.
The Vienna-based agency repeated this month that it has questions over the correctness and completeness of Iran's declarations after investigators found decades-old man-made uranium particles at sites suspected of hosting nuclear activities.
Allowing the investigation to stall "would both undermine the integrity of the international safeguards system and set a troubling precedent for international efforts to ensure that Iran is adhering to all of its nonproliferation commitments," U.S. envoy Louis Bono said in a statement delivered Thursday to the IAEA's board of governors.
Iran's IAEA envoy Kazem Gharibabadi replied in his statement that while his government stands ready to work with investigators, they don't consider the agency's findings "consistent, credible or convincing."
"Iran remains committed to its obligations," he said. "All nuclear materials in Iran are under the agency's safeguards. There is no indication of diversion in declared nuclear material and activities in Iran."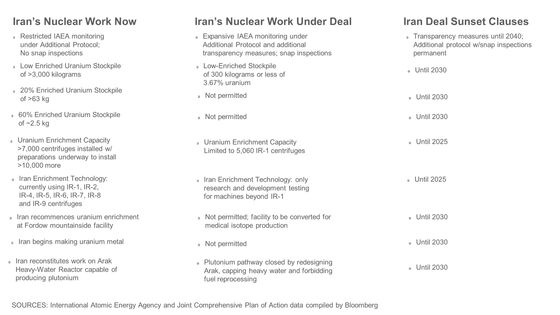 Historically, IAEA questions over transparency have resulted in diplomatic censure of Iran in the form of a resolution passed by the board. The country has been subject to more than a dozen such motions since 2003, including the consequential 2006 referral to the Security Council that set off the subsequent waves of international sanctions that still linger.
This time around, however, Iran won't be hit with a resolution amid the high-level talks aimed at re-instituting the broad international monitoring enabled by the 2015 accord. Should world powers fail to revive the deal, the U.S. envoy suggested that Iran could face administrative action before the next IAEA meeting in September.
IAEA inspectors had their power to call surprise visits curtailed in February after Iran's parliament passed a law suspending the agency's so-called Additional Protocol -- a powerful set of international monitoring measures. Iran says it will restore the inspections once the U.S. rejoins the nuclear deal and it's fully revived.
The agency's director general, Rafael Mariano Grossi, on Monday said he's in touch with Iranian Vice President Ali Akbar Salehi about clarifying the investigation.