Echos of the 2015 Crash as Chinese Firms Pledge to Buy Shares
Echoes of 2015 Crash as 101 Chinese Firms Pledge Share Purchases
(Bloomberg) -- A wave of Chinese companies are promising to boost buying of their own shares as a $1.6 trillion slump in the nation's stock market deepens.
At least 101 firms said major shareholders and executives plan to increase their stakes or have bought shares, according to exchange filings on Wednesday and Thursday. Stock prices for these companies dropped by an average 7 percent on Tuesday when the Shanghai benchmark plunged to a two-year low amid concern about worsening trade tensions with the U.S.
The move is reminiscent of steps taken by Chinese firms during 2015 when executives scrambled to shore up confidence as a stock bubble burst. Officials are weighing in: People's Bank of China Governor Yi Gang pledged after Tuesday's tumble to use monetary policy comprehensively and maintain liquidity at an appropriate and stable level, while state media also tried to reassure investors.
"The purchases are more of a symbolic move to boost share prices," said Guo Feng, Shanghai-based head of the wealth management department at Northeast Securities Co. "It's typical for firms to come up with such plans after market tumbles, but they hadn't always worked."
Property developer Guangzhou Yuetai Group Co.'s chairman plans to buy up to 1 billion yuan ($154 million) of the company's shares over the next nine months starting from Thursday, according to a statement dated Thursday. The stock plunged by the 10 percent daily limit for a third day. Guangzhou Haige Communications Group Inc. said Wednesday its controlling shareholder plans to spend no more than 1 billion yuan buying as much as 5 percent of total shares before Aug. 10.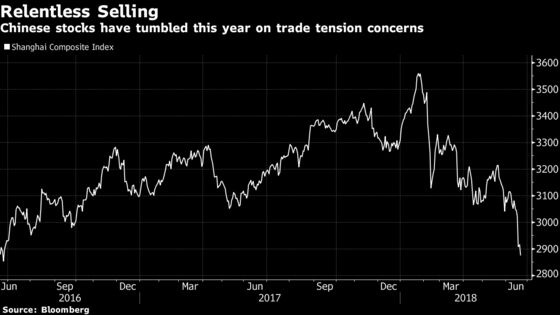 Of the 101 companies announcing buybacks, 61 are listed in the southern city of Shenzhen, where the benchmark equity gauge has slumped nearly 20 percent since its January high. That includes a 2.1 percent drop on Thursday. The Shanghai Composite fell 1.4 percent to a fresh two-year low. A weaker yuan is adding to jitters, with the currency losing 1.6 percent in the past week.
--With assistance from Penny Peng.
To contact Bloomberg News staff for this story: Amanda Wang in Shanghai at twang234@bloomberg.net;Amy Li in Shanghai at yli677@bloomberg.net
To contact the editors responsible for this story: Richard Frost at rfrost4@bloomberg.net, Ron Harui
With assistance from Editorial Board