ECB's Lagarde Warns of 2008-Style Crisis Unless Europe Acts
European Central Bank President Christine Lagarde said Europe risks a major economic shock echoing the global financial crisis unless leaders act urgently on the coronavirus outbreak, and signaled that her institution will take steps as soon as Thursday.
Lagarde told European Union leaders on a conference call late on Tuesday that without coordinated action Europe "will see a scenario that will remind many of us of the 2008 Great Financial Crisis," according to a person familiar with her comments. With the right response, the shock will likely prove temporary, she added.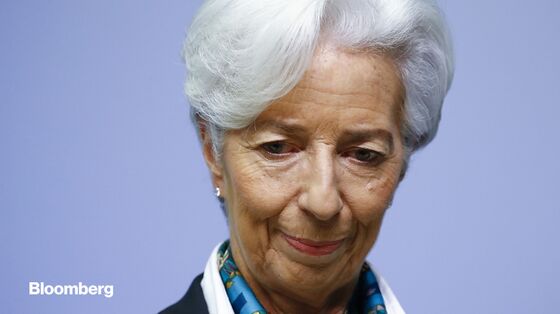 Lagarde said her officials are looking at all their tools for Thursday's policy decision, particularly measures to provide "super-cheap" funding and ensure liquidity and credit don't dry up, said the person, who declined to be identified because the call was private.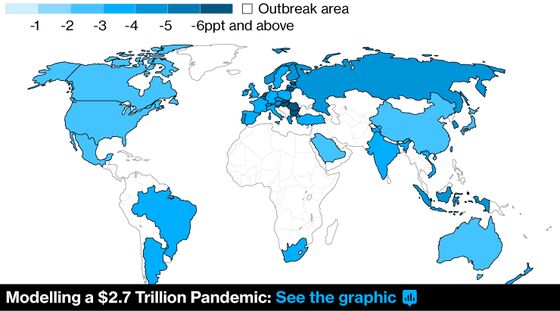 Still, she stressed that central-bank measures can only work if governments throw their weight behind them too, with steps to ensure banks keep lending to businesses in affected areas, said the person. An ECB spokesman declined to comment.
Lagarde spoke hours before the Bank of England became the latest central bank to take emergency action. It announced a 50 basis point interest-rate cut early Wednesday, combined with measures to help keep credit flowing, and said it still has more policy space to act if needed.
BOE Governor Mark Carney echoed Lagarde's view that a proper response would help prevent a global recession. "There is no reason for this shock to turn into the experience of 2008, a virtual lost decade in a number of economies, if we handle it well," he said.
Economists see the ECB's options as including a version of an existing program that offers long-term loans to banks at potentially negative interest rates -- meaning it actually pays banks to borrow money -- if they lend the cash onto companies and households. That could be used to encourage lending to small and medium-sized enterprises should they see cash flows dry up as the virus disrupts supply chains, travel and spending.
What Bloomberg's Economists Say

"Lots of firms in the euro area are already feeling the pinch from the spread of the coronavirus, but the smaller ones may need the most support [...] To play its part, the European Central Bank will probably throw them a lifeline this week, helping to avoid the widespread bankruptcies and layoffs that could threaten price stability once the virus outbreak has passed."

-- David Powell. Read the ECB INSIGHT
The ECB could also step up its asset-purchase program, perhaps skewing it more toward buying corporate debt to much companies' financing costs lower.
Investors expect a rate cut, though possibly as little as 10 basis points because the key rate already is at a record-low minus 0.5%.
The U.S. Federal Reserve and Bank of Canada made 50 basis point reductions last week, shortly after Group of Seven Finance chiefs pledged to use "all appropriate policy tools" to protect their economies.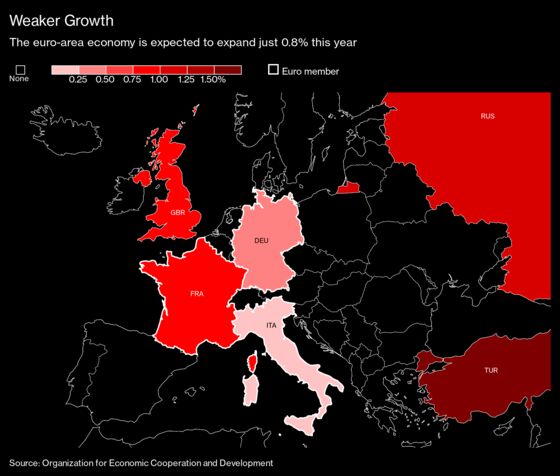 Lagarde's message serves as both a dire warning and a dramatic plea for authorities to step up efforts to prevent the virus dragging Europe into a recession. Even before the outbreak, ECB officials had repeatedly called for governments to raise public spending as monetary policy reaches its limits.
HSBC economist Simon Wells said that "given this disruption, we believe a euro-zone recession looks unavoidable."
Italy, where a national lockdown has been imposed, has been hardest hit so far by the spread of the virus, and is facing a crippling slump. On the same call with Lagarde, Italian Prime Minister Giuseppe Conte appealed to EU leaders to show the same determination and solidarity that they showed during Europe's debt crisis.
On Wednesday, Italian Finance Minister Roberto Gualtieri said the government raised the amount it plans to spend to cushion the blow to the economy to 25 billion euros ($28.3 billion.)
Lagarde warned that the damage will likely spread to other countries. She praised actions taken so far in some areas, but demanded more, the person said. Failure to act boldly now would raise the risk of "the collapse of part of your economies," Lagarde told leaders.
To contact the reporter on this story: Fergal O'Brien in Zurich at fobrien@bloomberg.net
To contact the editors responsible for this story: Alaa Shahine at asalha@bloomberg.net, ;Flavia Krause-Jackson at fjackson@bloomberg.net, Paul Gordon