East EU Loads Fiscal Bazookas to Combat Coronavirus Fallout
East EU Loads Fiscal Bazookas to Combat Coronavirus Fallout
(Bloomberg) -- Countries across the European Union's east unveiled rescue packages as the coronavirus lockdown threatens to push their economies into recession.
Poland's government unveiled a package worth $52 billion, or 9% of gross domestic product, while Czech Prime Minister Andrej Babis pledged aid amounting to $40 billion -- twice as much as Poland's relative to economic output. Hungary, Romania and other nations also presented measures to shield workers and companies.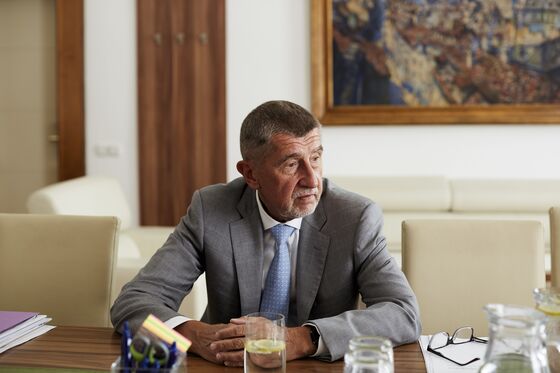 The measures followed monetary loosening by some of the region's central banks. But investors weren't impressed, with stocks and bonds extending losses in Warsaw and Prague. The Czech currency stabilized after a two-week slide.
Economists are slashing growth outlooks for east Europe as companies let factories idle and governments shut shops and borders, raising concern over the future of seamless inter-state trade within the European Union.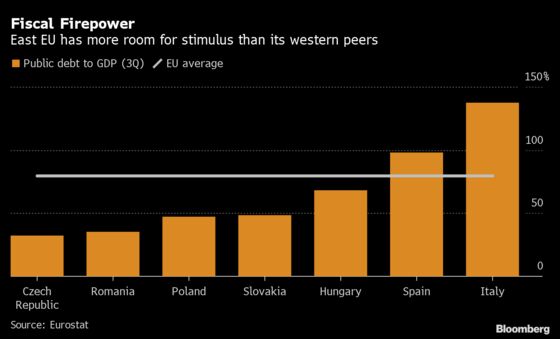 "We want to get through the next few, critical months intact," Polish Prime Minister Mateusz Morawiecki said. "This is a shield that is to give hope that things will get better soon."
Poland's plan to support entrepreneurs and protect the labor market envisages holidays for debt repayment and social contributions, loan guarantees and salary handouts for those unable to work. The stimulus package, which will be fast-tracked through parliament, follows this week's emergency interest-rate cut and includes a 70 billion zloty ($17 billion) liquidity injection from the central bank.
Click here for more details about Poland's stimulus plan
Poland's battered stocks fell, with the WIG20 dropping 1%, and the zloty currency weakened 0.6% against the euro.
"All areas of the economy that need urgent support in these extraordinary circumstances seem to have been addressed," said Monika Kurtek, chief economist at Bank Pocztowy. "However, the question remains how quickly the solutions will be implemented and where the funds will be obtained from."
The restrictions aimed at slowing the spread of the virus may shrink Poland's GDP by 3.6% this year, which would be the deepest recession since the early 1990s, according to Morgan Stanley. Raiffeissen Bank International said output could drop as much as 6% in the region it covers, mostly eastern Europe.
Poland's plans to supplement incomes for people unable to work due to the pandemic -- which echo measures being ramped up across the region -- will help "alleviate the negative effects on private consumption," Erste Group economist Katarzyna Rzentarzewska said.
The Czech government pledged to provide $4 billion in direct help to businesses and another $36 billion in indirect aid, including guarantees. The state will provide interest-free credit to companies and is debating other measures including co-financing workers' wages of to avoid lay-offs and a spike in unemployment. The announcement followed an emergency interest-rate cut on Monday.
Hungary's government suspended all loan repayments for companies and individuals through the end of the year and announced tax brakes for the most exposed industries, including hotels and restaurants. The cabinet also capped the interest rate banks can charge on new consumer loans.
Romania's government was set to approve measures to help pay for furloughed employees and a 10 billion lei ($2.2 billion) plan for state guarantees to support small- and medium-sized companies.
The Baltic state of Lithuania announced 2.5 billion euros ($2.8 billion) of stimulus, including liquidity instruments, tax loans and state guarantees.