Early Indicators Show China Slowed for a Sixth Month in November
Trade war leaves little room for optimism among Chinese firms.
(Bloomberg) -- China's economy slowed for a sixth straight month in November as the ongoing trade war with the U.S. continued to weigh on the outlook for economic growth.
That's the signal from a Bloomberg Economics gauge aggregating the earliest-available indicators on business conditions and market sentiment. The data suggest recent government actions to support households and private companies haven't been enough to immediately boost the economy and allay concerns about the nation's growth trajectory.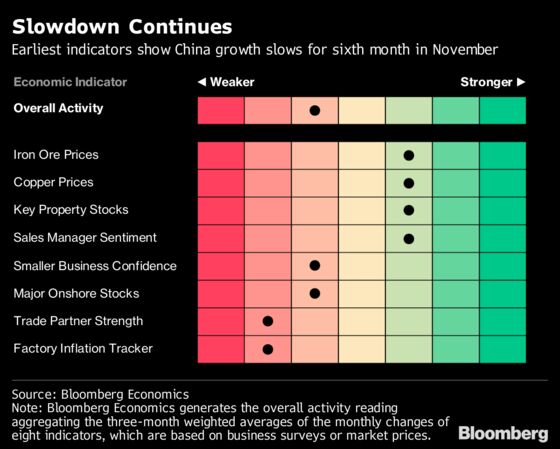 "Early indicators point to further weakness in the Chinese economy," Bloomberg Chief Asia Economist Chang Shu said. "The economies of China's major trading partners continued to decelerate. The weakness in the equity market would not only impact sentiment, but also constrain firms' liquidity."
The trade war continues to create uncertainty for China, and although presidents Donald Trump and Xi Jinping plan to meet this week, there is little sign of a breakthrough that would stop further planned tariff increases.
The first official Chinese economic data for November, the purchasing managers indexes for the manufacturing and non-manufacturing sectors, will be released Friday morning in Beijing.
The manufacturing gauge will probably be unchanged after falling to the lowest level in over two years in October, while the non-manufacturing gauge, which covers construction and services, is forecast to tick lower.
The dimmer outlook comes despite an unexpected acceleration in October export growth, as shippers sought to get goods to the U.S. ahead of the planned increase in tariffs that will take effect in January.
Data from China's major trading partners suggest external tailwinds are waning alongside domestic demand. The weighted average of the flash PMI readings of nations including the U.S., the European Union and Japan moderated for a seventh straight month in November -- to the lowest level in two years -- though it remained in expansion territory.
Chinese factory inflation continued to slow, reaching the lowest level since October 2016. The moderation bodes poorly for profit margins amid a faster pace of increase in input costs.
Investor sentiment was mixed in November. The benchmark Shanghai Stock Exchange Composite Index edged lower, though the decline was nothing like October's plunge. Property stocks rose more than three percent, marking the best month for the sector since January. Copper prices increased, while iron ore prices fell.
Chinese companies remain pessimistic. An index of business confidence among small and mid-sized enterprises maintained by Standard Chartered ticked higher, but the rise was mainly driven by a modest improvement in credit conditions, according to Shen Lan, the Beijing-based economist in charge of the bank's survey.
"Real activity weakened as the business outlook stayed downbeat. This was reflected in sluggish domestic sales, poor investment appetite, falling financing demand and softer hiring," Shen said in a Nov. 20 report.
"Inventory of both raw material and finished goods has shrunk in November, reflecting ongoing de-stocking amid weak demand and rising uncertainty," she said. "Profit margins have been squeezed, especially in lower-stream industries."
To contact Bloomberg News staff for this story: Matthew Boesler in Beijing at mboesler1@bloomberg.net;Adrian Leung in Hong Kong at aleung206@bloomberg.net
To contact the editors responsible for this story: Malcolm Scott at mscott23@bloomberg.net, James Mayger, Jeffrey Black
With assistance from Editorial Board