Default Risks Rise in $355 Billion China Builder Bond Market
Default Risks Rise in $355 Billion China Property Bond Market
(Bloomberg) -- Investors are bracing for more debt defaults among China's cash-squeezed real estate developers as funding costs surge and refinancing pressure intensifies.
Borrowing costs in dollars for China's high-yield issuers, most of whom are property developers, almost doubled this year to 11.2 percent, the highest in about four years, ICE BofAML indexes show. To make things worse, the sector faces a record $18 billion bond maturities in both onshore and offshore markets in the first quarter of 2019. That number is expected to double if investors demand early repayment on some of these notes, according to Bloomberg-compiled data.
China's property developers have been caught in the storm of a funding crunch facing the nation's private sector due to a two-year long clampdown on shadow financing. Although authorities have rolled out measures to ease funding for non-state firms, the existing property control policies won't loosen, the official Xinhua New Agency said in a commentary last week. At least four property-related firms defaulted on notes this year.
"Funding conditions may not improve until sentiment changes," said Clement Chong, a Singapore-based senior credit analyst at NN Investment Partners Ltd. "Defaults are happening more frequently onshore. I believe some developers will be caught up in this if funding cost keeps rising."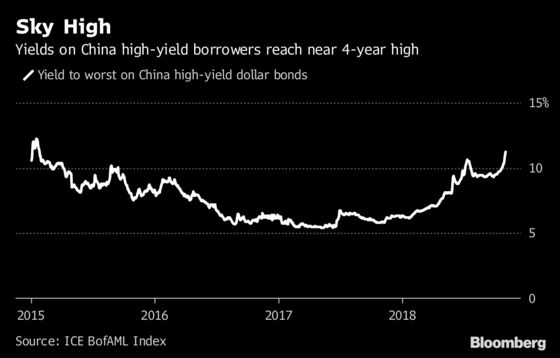 Wuzhou International Holdings, a developer based in Wuxi, failed to repay notes in both the offshore and domestic markets this year. Neoglory Holding Group, a handicraft maker that also has real estate business, reneged on at least three local bond payments in the past two months.
Even the country's largest developers have had to pay sky-high yields on dollar bonds to lure investors. Junk-rated China Evergrande Group, the nation's second largest builder by sales, sold $1.8 billion three-tranche notes last week. The 13.75 percent coupon on the five-year bond was the highest interest rate it has ever paid on a dollar debenture, according to Bloomberg data.
The builder has been named by China's central bank as one of the four private conglomerates that may pose a systemic risk to the nation's financial system. Its due-2025 bonds fell 0.6 cents on the dollar to 81 cents on Monday, Bloomberg-compiled prices show.
"Evergrande is the latest lower-rated issuer to re-price offshore bond markets wider, as the onshore private sector credit crunch continues to bite," said Owen Gallimore, head of credit strategy from Australia & New Zealand Banking Group. "The property sector is the lightening-rod for market concerns amidst weaker contract sales."
Chinese home price gains slowed in September for the first time in half a year, adding to signs of a residential property market slowdown triggered by the government's housing curbs. S&P Global Ratings expects more failures in the sector in the coming year.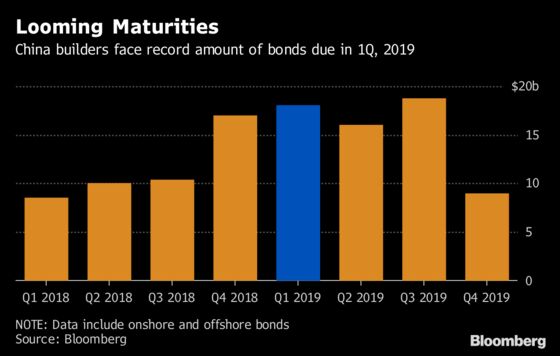 "We could see more defaults among Chinese property developers next year as dollar funding costs are now at record high for even some of the big names amidst large amount of bonds coming due, while sales outlook are not that promising with consumer sentiment deteriorating," Christopher Lee, managing director of corporate ratings at S&P, said in an interview.
Financial flexibility of builders, which have $355 billion notes outstanding, has also diminished as the drop in their share prices makes it challenging to pledge shares against their borrowings. The outstanding loans listed firms obtained by using their stock as collateral shrank for seven consecutive months to 1.46 trillion yuan in August, according to Moody's Investors Service. JPMorgan Chase & Co. has advised its clients to stick to safer credits.
 
"If I wanted to choose Chinese high yield, I would stick to the strong BB names and stay away from weak single B names" due to higher borrowing costs for weaker ones and lower investor demand for property bonds, said Ben Sy, head of fixed income, currencies and commodities at JPMorgan's private-banking unit in Asia.
--With assistance from Emma Dong, Molly Dai and Finbarr Flynn.
To contact the reporter on this story: Carrie Hong in Hong Kong at chong61@bloomberg.net
To contact the editors responsible for this story: Neha D'silva at ndsilva1@bloomberg.net, Lianting Tu