Coastal Damage Could Cost U.K. Economy Billions, WWF Says
Coastal Damage Could Cost U.K. Economy Billions, WWF Says
(Bloomberg) -- The U.K. economy could face hits of more than 12 billion pounds ($15.4 billion) a year by 2050 from coastal damages alone if no action is taken to combat climate change, according to the WWF.
The calculations -- made on the basis of global trade, land-use and ecosystem services models -- are published as Britain grapples with flooding across large sections of the country. Unless action is taken, almost 2.5 million homes in the U.K. will be at risk of flooding by 2050, the WWF said. Already this month, around 1,000 properties were vacated in Yorkshire after two rivers burst their banks.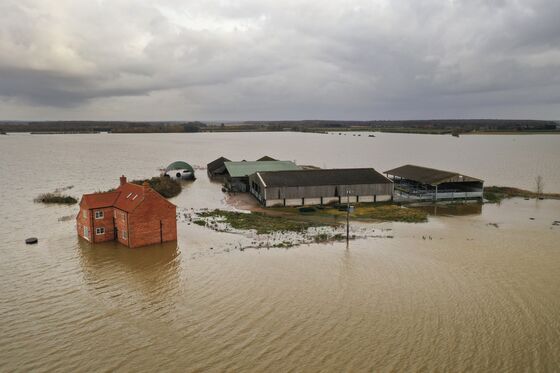 Flooding has become a major issue in the runup to Britain's Dec. 12 election, with Prime Minister Boris Johnson deploying extra troops to help parts of northern England. The opposition Labour Party argues that the Conservatives' focus on cutting spending over the last decade has hurt the agencies that protect against natural disasters.
"All U.K. political parties must make urgent commitments to invest in the restoration of nature," said Mike Barrett, the WWF's executive director of science and conservation. "Many coastal areas in the U.K. are at serious risk of land erosion and flooding, threatening hundreds of thousands of businesses and homes, roads, railways and huge swathes of valuable farmland."
To contact the reporter on this story: Jill Ward in London at jward98@bloomberg.net
To contact the editors responsible for this story: Fergal O'Brien at fobrien@bloomberg.net, Jana Randow, Brian Swint