Clashing U.S. Factory Gauges Divide the Economists Who Use Them
Clashing U.S. Factory Gauges Divide the Economists Who Use Them
(Bloomberg) -- America's two most-watched manufacturing surveys pointed in different directions in November, and economists and investors can't seem to agree on which one paints the more accurate picture of factory production.
The Institute for Supply Management's measure of manufacturing unexpectedly declined to 48.1, a fourth-straight contraction that suggests the sector continues to shrink. Meanwhile, the purchasing managers' index calculated by IHS Markit advanced for a third straight month to a seven-month high of 52.6. Unlike ISM, that measure has held in recent years above the 50 level that divides expansion and contraction.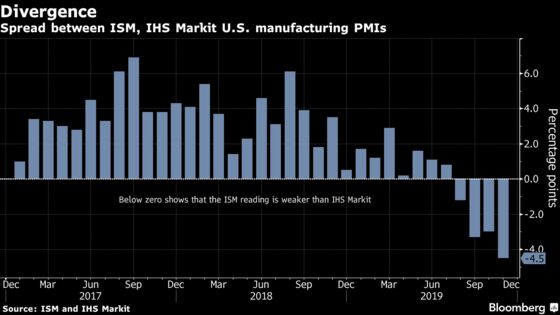 Investors on Monday appeared to embrace the more bearish read from ISM. U.S. stocks traded slightly lower after the IHS Markit numbers were released at 9:45 a.m., then extended losses after the ISM data 10 a.m. The decline helped send the S&P 500 Index heading for its biggest drop in almost two months.
Differences in methodology help explain the contrasting signals. The ISM survey weights components equally, while the IHS Markit index gives greater weights to more forward-looking components.
Additionally, the survey size and sector composition also differ. IHS Markit surveys almost 800 manufacturing companies and typically receives an 80% response rate. ISM doesn't disclose the number of questionnaires received.
IHS Markit economist Chris Williamson said in an October note that their report "has outperformed the ISM survey in providing more accurate indications of actual manufacturing trends in recent years, most likely due to differences in panel structure and questionnaire design."
Tim Fiore, chair of ISM's manufacturing survey committee, told reporters on a call Monday that "we've had a long history of being consistent" and declined to comment on Markit's data.
While both measures are important, James Sweeney of Credit Suisse Group AG and Michael Feroli of JPMorgan Chase & Co. lean toward IHS Markit data when forecasting U.S. manufacturing activity.
"The Markit PMI survey, which has less history, does seem to do a good job tracking U.S. production," said Sweeney, chief economist at Credit Suisse.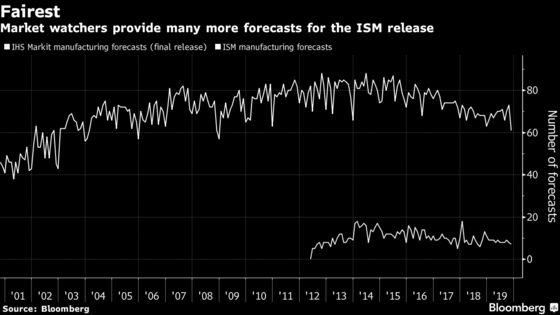 Stan Shipley, an economist at Evercore ISI, previously preferred the IHS Markit index but now takes a different view. While he doesn't have a strong preference either way, he says ISM tends track other manufacturing measures more closely.
While economists may be split on which survey to focus on, investors care more about ISM's measure and know it better, Feroli said. "There's just more familiarity with the ISM because it's been around for a lot longer."
Part of the reliance on ISM data stems from its historical precedent. ISM's PMI has consistent data going back to 1948, while IHS Markit has only compiled responses from all areas of manufacturing since 2009. Economists surveyed by Bloomberg generally submit more forecasts for ISM.
Tom Essaye, a former Merrill Lynch trader who founded the Sevens Report newsletter, said he prefers ISM, but "the bottom line is both numbers are telling us that manufacturing activity is weak."
--With assistance from Vildana Hajric.
To contact the reporters on this story: Reade Pickert in Washington at epickert@bloomberg.net;Alex Tanzi in Washington at atanzi@bloomberg.net
To contact the editors responsible for this story: Scott Lanman at slanman@bloomberg.net, Jeff Kearns
Get Your
Daily Newsletter
Get market moving news, top news & compelling perspectives
---