China's Upbeat Economic Data Hints at More Policy Moderation
Amid the turbulence, China's economy expanded 6.1% through 2019 -- the weakest since 1990
China's economy displayed greater-than-expected strength in December, handing President Xi Jinping's government vindication of its new-found moderation in stimulus and suggesting the approach will continue through 2020.
The world's second-largest economy grew 6% in the final quarter of the year, holding pace despite fears that the domestic struggle with bad debt and the trade war with the U.S. would result in further deceleration. Instead, investment picked up for the first time since June.
For a nation better known for all-out investment binges, China has faced financial jitters, the return of factory-gate deflation and the all-out tariff war with a rare level of restraint. The transition onto a more sustainable growth trajectory is good news for a world economy set to lose a tailwind as America's expansion moderates.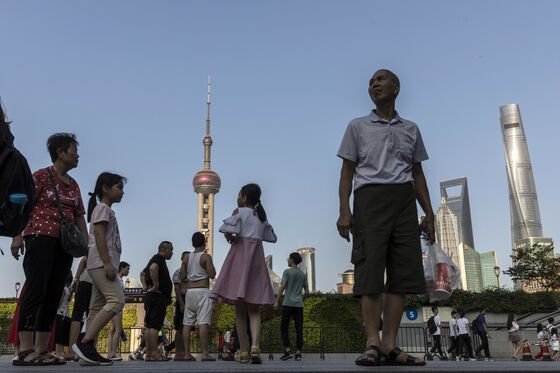 "2019 was the year when the Chinese economy's transition toward a less credit-intensive model was tested by downward pressure," said Cui Li, head of macro research at CCB International Holdings Ltd. in Hong Kong. "The new growth model implies more investment discipline, an increase in return to capital, and better control of risks."
China began moving decisively away from its old debt-driven growth model in late 2017, when Xi launched a three-year campaign of 'critical battles' against financial risk, pollution and poverty. But its resolve in 2019 was tested like never before as full-year growth slid to 6.1% -- the slowest pace since China's isolation in the wake of its crackdown on students in Tiananmen Square.
Industrial production growth in December perked up to 6.9%, retail sales rose 8% and fixed-asset investment in the 12 months expanded 5.4%.
What Bloomberg's Economists Say...

The signing of the 'phase-one' trade deal takes China out of the most turbulent waters, but it will hardly be smooth sailing ahead -- sizable U.S. tariffs will continue to weigh on the external sector, and sentiment is weak. Fiscal and monetary policy still need to provide cyclical support. However, we think the authorities will start to look beyond the cycle, with a view to maintaining robust growth over the medium term.

-- Chang Shu and David Qu
In contrast to past cyclical downturns, this time there was no knee-jerk stimulus to rev up growth. A Goldman Sachs Group Inc. analysis of China's policy stance found that easing in the past two years was only about half that of 2015 and 2016, despite growth slowdowns of similar magnitudes. Back in 2008 and in the years after the global financial crisis, China unleashed a stimulus binge that led to one of the fastest buildups of debt in history.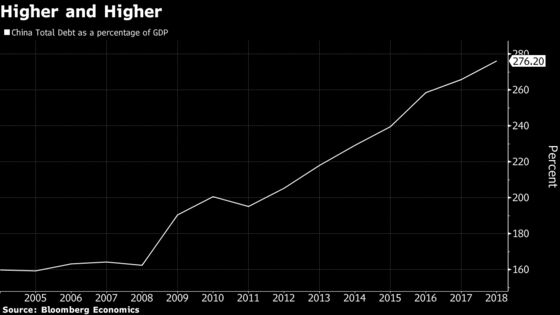 "Policy makers are increasingly playing the long game, putting more emphasis on risk control and limiting short-term stimulus that could exacerbate imbalances in the economy," said Andrew Tilton, chief economist for Asia Pacific at Goldman Sachs in Hong Kong. "The government's tolerance for a slower GDP growth in the near term has risen and long-term growth sustainability has become more important to policy makers."
The calibrated approach to policy support is multifaceted. Central bank cuts to bank reserve requirements are now targeted or come with strings attached, and there's been a decisive shift toward fiscal policy as a mechanism to backstop growth with an unprecedented 2 trillion yuan ($291 billion) of tax cuts announced last year. Policy makers also are striving to direct more credit to private-sector companies that are more efficient than state enterprises. More of the same is likely this year.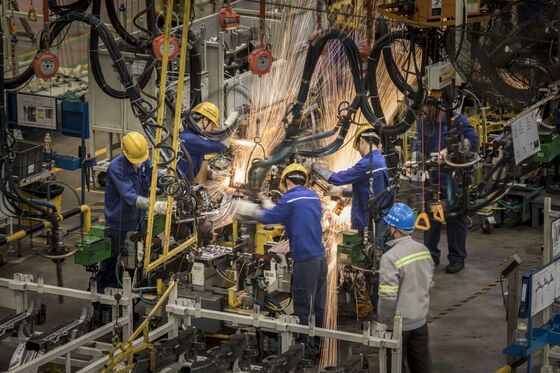 "Beijing's policies are becoming more targeted, using surgical strikes instead of carpet bombing with credit," said Gene Ma, chief China economist at the Institute of International Finance in Washington. "Beijing can now afford to allow slower growth because the job pressure is much less."

Ma computes that between 2014 and 2018, China lost 17 million industrial jobs while adding 46 million service jobs. Some 13.52 million jobs were created last year.
Longer term, those demographic trends will drag on China's potential economic growth rate.
The number of births per 1,000 people declined to 10.48, the lowest level on record according to National Bureau of Statistics data going back to 1949 when the Communist Party took power. China's working-age population -- those aged 15 to 59 -- declined 890,000, the figures showed. The number of newborns in 2019 fell to 14.65 million, a decrease of 580,000 from the year before.
China hasn't completely weaned itself off old habits. Stimulus restraint was a positive development, but official bank lending consistently expanded at more than double digits last year on top of an enormous base, outrunning nominal GDP growth by more than it used to, said Derek Scissors, chief economist at the China Beige Book International.
While restrained stimulus slowed the buildup of debt last year, Bloomberg Economics says it's still on track to reach more than 300% of gross domestic product by 2022, from 276% at the end of 2018.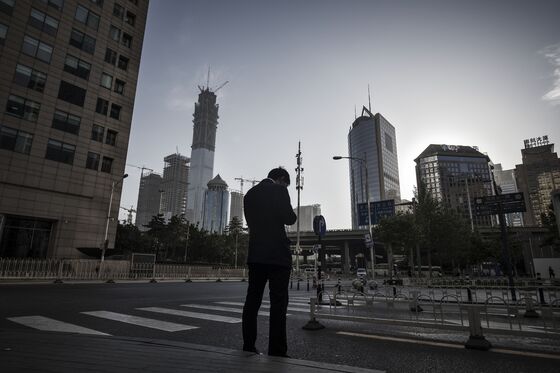 China seems determined to continue with its targeted strategy, which aims to feed the economy just enough to steady its deceleration. Though optimism over the trade deal prompted some economists to revise up forecasts for 2020 recently, expansion is still expected to decelerate again this year to 5.9%, according to a Bloomberg survey.
Despite the trade truce, manufacturers still labor under U.S. President Donald Trump's higher tariffs on about $360 billion of their goods, which are an unprecedented assault on China's dominance of the global supply chain.
"Rhetoric became reality last year," said Andrew Batson, head of research at research firm Gavekal Dragonomics in Beijing. "We had a deepening slowdown in the domestic economy last year and unprecedented pressures on the external front from the trade war with the U.S. In the face of all that, the Chinese leadership actually did very little."
To contact Bloomberg News staff for this story: Kevin Hamlin in Beijing at khamlin@bloomberg.net
To contact the editors responsible for this story: Jeffrey Black at jblack25@bloomberg.net, Malcolm Scott
With assistance from Bloomberg
Get Your
Daily Newsletter
Get market moving news, top news & compelling perspectives
---