China Signals More Effective Fiscal Policy to Stabilize Economy
The Chinese government said it would improve the effectiveness of fiscal policy in 2020, while monetary settings remain "prudent," signaling a fine-tuning of support measures as the world's second largest economy slows.
The Communist Party's annual economic planning meeting declared that the government would maintain economic growth next year within a "reasonable range," according to a summary of decisions carried by state media. The government and central bank will ensure reasonably ample liquidity, and the report also called for a continued lowering of the overall level of import tariffs.
"The meeting pointed out that the basic trend of China's economic stability and long-term improvement has not changed," according to the statement. "Fiscal and monetary policies should work together with policies on consumption, investment, employment, industry, and the regions to channel investment to areas such as advanced manufacturing, improving people's livelihoods, and gaps in infrastructure."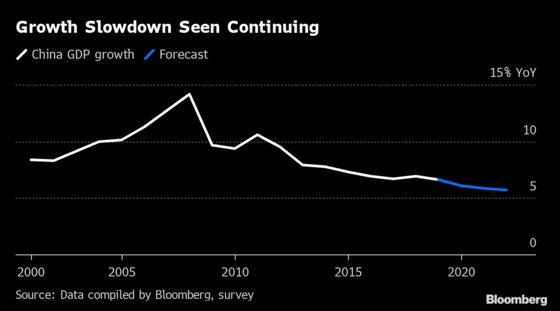 As China pursues a trade deal with the U.S. to end the bruising tariff conflict, domestic policy makers are focusing on stability rather than artificially boosting the economy as it transitions to a more modest level of growth. Officials remain wary of boosting monetary stimulus, and are hinting that greater impact from fiscal efforts than was achieved by 2019's 2 trillion yuan ($284 billion) round of tax cuts is desired. There was no mention of new tax or fee cuts this year.
The statement was released after the three-day Central Economic Work Conference finished Thursday, and didn't mention the overall target for gross domestic product growth. That is likely only to be released at a legislative meeting in March, but economists see the target being set at "about 6%," a formulation that implies continuation of the current growth slowdown. A target at that level will also keep the government's goal of doubling the size of the economy and income over this decade within reach.
Said it's necessary to speed up restoration of hog production and ensure stable pork prices. Inflation has risen this year after a pig disease caused pork production to crash and prices to soar.
Repeated the government's standard line that "houses are for habitation, and not for speculation."
Said that China's financial system is generally healthy and has the ability to mitigate various risks, adding that it's necessary to keep the macro-leverage ratio basically stable.
The statement highlighted "stabilization" as the key to reach the goals next year. It also stressed the importance of the economic work as next year marks a milestone for the two so-called "centenary goals" and the drive to create an all-round moderately prosperous society.
While there was no specific mention of trade tensions with the U.S. the report said "there are significantly more turmoils and risks around the globe. We need to make good preparatory plans."
To contact Bloomberg News staff for this story: James Mayger in Beijing at jmayger@bloomberg.net
To contact the editor responsible for this story: Jeffrey Black at jblack25@bloomberg.net
With assistance from Bloomberg