China Sees Skilled Labor Shortages Worsening Amid Tech Push
China's State Council outlined a new employment plan targeting 55 million urban jobs by 2025.
(Bloomberg) -- China expects shortages of skilled workers will worsen over time as the government develops its high tech industries, focusing attention on the need for better training and education. 
The mismatch between jobs and skills will become the main problem in the labor market, Gao Gao, deputy secretary general of the National Development and Reform Commission told reporters Monday following the release of a new five-year employment plan through 2025. While the share of skilled workers has risen to about 30% of workforce, it remains low compared with other manufacturing powerhouses, he said.
The economy is facing a structural contradiction of a shortage of skilled workers and high and rising joblessness among young people. Businesses in the eastern coastal regions of the country have reported difficulties in recruiting workers, while the unemployment rate of those aged 16-24 is more than three times the national rate of 5.1%.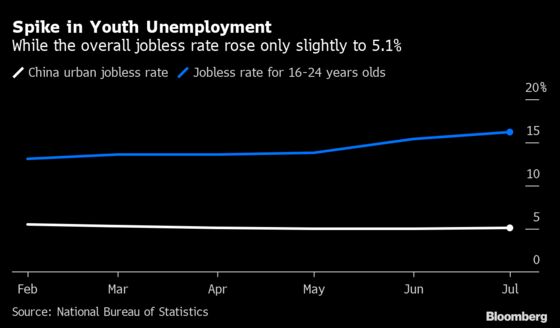 In a detailed plan published late Friday, the State Council -- China's equivalent of a government cabinet -- pledged to boost skills levels in the economy, especially through vocational education. The average years of education of the working age group will be increased to 11.3 years from 10.8 years. As the only compulsory target among all the 10 goals listed, it signals the nation's efforts to upgrade its manufacturing sector and move up the value chain.
"A labor shortage in the manufacturing sector is prominent," Gao said, especially as demand for skilled personnel rises and workers in manufacturing grow older. China needs to accelerate the training of urgently needed talents in key areas and strive to match the labor demand in the manufacturing sector, he said. 
China aims to add 55 million urban jobs by 2025 and cap the unemployment rate at 5.5%, according to the plan.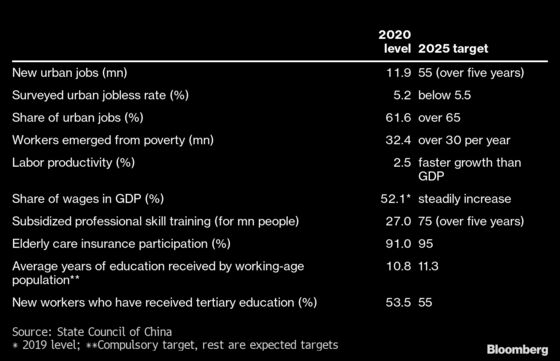 Beijing has pledged to make employment a top priority of its economic policies, a goal that's taken on more importance recently as authorities make a bigger push to reduce inequality to achieve "common prosperity." Part of that includes improving workers' rights, especially in industries like technology, which was put on notice on Friday by a top court warning about excessive-work culture.    
On workers' rights, the government pledged to supervise companies to adopt working hours that are in line with the law and ensure employees get time off. It also pledged to reduce discrimination in the workforce, encourage employers to adopt flexible policies for workers taking care of infants and provide professional training to women who left the workplace to give birth.
A new focus in the employment plan is a pledge to grow the share of workers' wages in the economy, a move that would narrow the income gap. Beijing pledged to increase the labor compensation for workers, especially for front-line workers, and simultaneously increase wage and labor productivity.
With assistance from Bloomberg