China Stocks Suffer Worst Start Since 2019 on Profit Taking
(Bloomberg) -- Chinese shares had their worst start to the new year since 2019, as investors took profit on some of their most successful bets in 2021. 
The benchmark CSI 300 index closed down 0.5% Tuesday, marking its weakest opening session in three years and led by declines in renewable energy and healthcare firms. Among the top losers, drugmaker Asymchem Laboratories Tianjin Co. fell by the 10% daily trading limit while Trina Solar Co. slumped 8.5%. 
The Nasdaq-style ChiNext board in Shenzhen finished the day 2.2% lower, weighed by battery maker Contemporary Amperex Technology Co.'s 3.3% drop.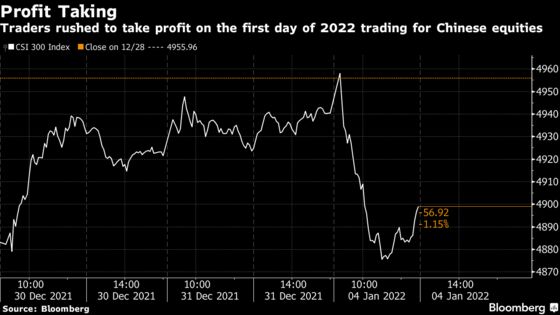 The losses came after Beijing said it will terminate the government's subsidy policy for new-energy vehicle purchases from 2023. Investor mood also turned cautious after China's central bank cut its net supply of funds to markets by the most in three months, a disappointment for investors hoping for more monetary easing. 
"There looks to be more of the same thing that happened last year, with institutional money moving out of the hottest stocks because the positives have been largely priced in," said Gao Shan, chief investment officer at Shanghai Universal Wisdom Fund Ltd. "This time, its renewables and EV shares that are most apparent." 
CATL was the most held firm by institutional investors toward the end of last year, while seven out of the top 10 gainers on the CSI 300 in 2021 were linked to the renewable energy sector. Trina Solar was among them, delivering a 241% gain.
In Hong Kong, the Hang Seng Tech Index shed as much as 1.6% after Beijing asked the nation's large-size tech firms to apply for security checks before seeking overseas stock listings.
Mainland investors sold a net HK$1.57 billion ($246 million) worth of Hong Kong stocks Tuesday via trading links, while offshore investors bought 460 million yuan worth of onshore stocks, according to Bloomberg-compiled data. 
With assistance from Bloomberg