China's Growth Seen Picking Up in 2022 on Policy Easing, MS Says
China's economy is expected to enter an upswing cycle in 2022, Morgan Stanley says.
(Bloomberg) -- China's economy is expected to enter an upswing cycle in 2022, as policy makers shift from over-tightening to easing after a policy-induced economic downturn, Morgan Stanley says. 
China has already hit pause on their deleveraging efforts and started to ease both monetary and fiscal policies, the firm wrote in a report Tuesday, with more easing expected to come. Private corporate sentiment will also improve after policy makers made clear that there is still a need to grow the economy even as the government aims for more equitable distribution.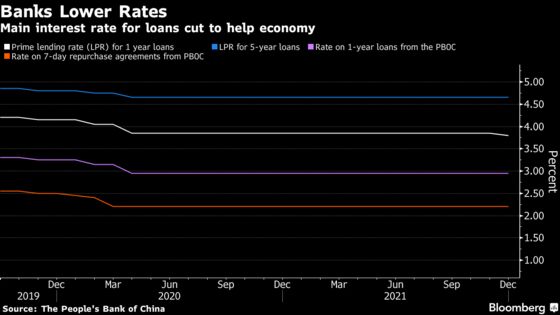 "We will see a growth upswing in China from early 2022," according to the report, with Chief China Economist Robin Xing projecting a 5.5% increase in national output next year, higher than the consensus forecast for a 5.2% expansion. 
Beijing's acknowledgment that "China's economic development is facing three pressures: demand contraction, supply shock, and weakening expectations," suggests they recognize the need to revive private business and market sentiment toward China's growth outlook and that policy makers will continue to take action to stem the downturn, they wrote.
However, the higher transmissibility of the omicron variant raises the risks of selective shutdowns in the near term, they said, which will likely prompt China to keep its Covid-zero policy in place for longer. 
With assistance from Bloomberg