China's Gold Mystery: Is Nation Slowly Increasing Reserves?
The case for China raising its gold holdings seems compelling.
(Bloomberg) -- The case for China raising its gold holdings seems compelling.
A potential trade war with the U.S. that threatens growth, simmering tensions on the Korean peninsula and this year's slump in gold prices are reasons to buy. But People's Bank of China data show the country's gold reserves haven't risen since Donald Trump was elected President in 2016. Still, this wouldn't be the first time the central bank has kept silent while adding to its stash.
"The strategic imperative is probably still there to add some gold to reserves quietly bit by bit," said Philip Klapwijk, managing director of Precious Metals Insights Ltd., a consultancy based in Hong Kong. "The reason to own gold as a portfolio diversification is even better given the rather strained relations with the U.S.," said Klapwijk, who has tracked precious metals for nearly 30 years.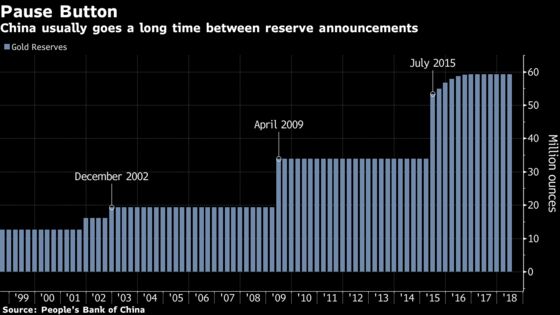 China has officially kept its gold holdings unchanged at 59.24 million ounces since October 2016, or 1,843 metric tons, valuing them at $74.1 billion at end-June. Globally, central banks continue to increase gold reserves, albeit at a slower pace, adding 371.4 tons in 2017, according to the World Gold Council.
The PBOC referred Bloomberg inquiries to the State Administration of Foreign Exchange, which didn't respond to a faxed request for comment. SAFE manages China's foreign exchange and gold reserves and foreign currency assets.
The Asian nation has spent long periods before without revealing increases in gold holdings. When the central bank announced a 57 percent jump in reserves to 53.3 million ounces in July 2015, it was the first update in six years. In 2009, the country said it bought 14.6 million ounces since 2003.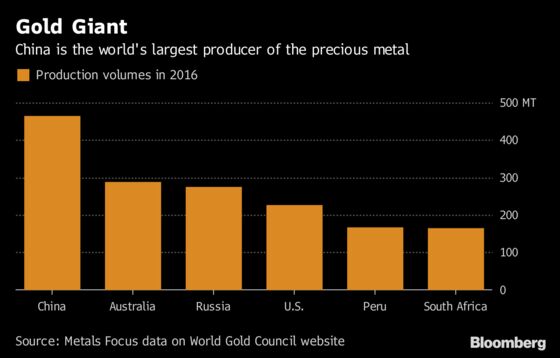 The country started to disclose holdings monthly after the 2015 announcement. That coincided with the adoption of stricter International Monetary Fund norms for foreign reserves and debt data as the government pushed for the yuan to be included in the Special Drawing Rights basket. The IMF added the currency in October 2016, the last month that the PBOC announced an increase.
One reason that China may not actually be buying more gold for reserves could be that public purchases of bars and jewelry mean one measure of national holdings is increasing substantially and these assets could be accessed by the state if needed, said Klapwijk. Secondly, as the world's largest miner of gold, the country can always buy domestic production for yuan if it wished, he said.
While China's holdings are the sixth largest by country, they account for only 2.4 percent of reserves, compared with more than 70 percent in Germany and the U.S., World Gold Council data show. Central bank deputy governor Yi Gang said in 2013 that the country could only invest as much as 2 percent of its foreign exchange holdings in gold because the market was too small.
The central bank normally updates data on its foreign exchange and gold reserves early each month.
The country will announce at some stage that they have increased gold holdings quite significantly, but the question is by how much, said Mark O'Byrne, research director of Dublin-based precious metals broker GoldCore Ltd. The purchase announced on July 17, 2015 was less than some analysts had expected and the price dropped 1 percent that day to $1,134.14 an ounce. Bullion traded at $1,219.30 on Friday.
"It's backward-looking data because the demand has already taken place," said O'Byrne, who's covered precious metals for 14 years. "Then, the question comes: what's the outlook and are they going to continue to buy, and I think they will, given the degree of geopolitical uncertainty."
--With assistance from Ran Li and Yinan Zhao.
To contact the reporter on this story: Ranjeetha Pakiam in Singapore at rpakiam@bloomberg.net
To contact the editors responsible for this story: Jason Rogers at jrogers73@bloomberg.net, James Poole
Get Your
Daily Newsletter
Get market moving news, top news & compelling perspectives
---