China's Factory Heartland Braces for Trump's Big Tariff Hit
In China's factory hub, Trump's 10% tariffs are causing little concern. The 25% duties that loom next year are another matter.
(Bloomberg) -- In China's manufacturing heartland around the Pearl River Delta, Donald Trump's 10 percent tariffs are causing little concern. The 25 percent duties that loom next year are another matter.
Ben Yang, a furniture maker producing contemporary designs out of his facility in Dongguan -- about 30 miles from Hong Kong -- says that if those higher charges materialize from January as planned, the U.S. share of exports from his Sunrise Furniture Co. could plunge from 90 percent to less than a third.
"Our major rival is Vietnam and 10 percent tariffs aren't enough to make the difference," said Yang, 48, who supplies retailers including Rooms To Go Inc. "But 25 percent tariffs are a worry. There will definitely be a short-term impact; Americans may have to accept higher prices."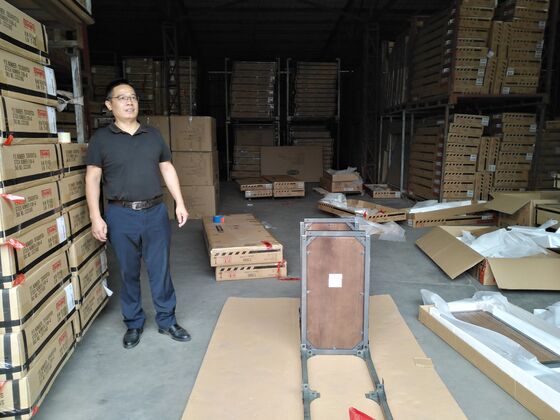 Yang's situation mirrors that of the economy as a whole as it heads toward the close of 2018: The negative headlines that have dominated the year have not yet translated into a sharp contraction of output, but rather the gradual slowdown that had already been expected.
It's what comes next that's preoccupying business owners, as interviews with about a dozen manufacturers in the Delta over the past ten days showed. The region serves as both China's traditional hub for manufacturing everything from toys to chemicals, as well as a higher-tech location that now hosts the headquarters of companies like Tencent Holdings Ltd. Exporters there are now seeking ways to adjust by diversifying sales to other overseas markets and domestic consumers.
"Going beyond 10 percent, the disruption increases exponentially," says David Loevinger, a former China specialist at the U.S. Treasury and now an analyst at fund manager TCW Group Inc. in Los Angeles.
Read more here
China GDP May Show Pressure From Trade War: Bloomberg Economics
The government has effectively shelved its campaign to curb indebtedness and added limited stimulus measures, and the approach of tariffs has actually helped boost sales abroad as exporters rush to beat the higher charges.
"The impact of China-US trade frictions on Chinese companies is limited overall, and the risks are controllable," according to Gao Feng, Ministry of Commerce spokesman. Most companies are confident and all levels of government are introducing measures to help companies through these tough time, he said at a regular briefing on Thursday.
"To those whose products are highly competitive, and difficult to replace, the impact is little. To those whose products can be replaces, the impact is that the costs have increased and the orders have reduced. Only very few companies face the danger of shutting down and cutting jobs," he said.
The muted impact of Trump's tariffs on China's manufacturers so far is expected to be confirmed in third-quarter economic data scheduled for release Friday. The economy, in the throes of a policy-induced slowdown, is seen ticking down a notch with gross domestic product expanding 6.6 percent from a year earlier, according to the median estimate of economists in a Bloomberg survey.
What our economist says
We see China's growth slowing to 6.5% year on year in the third quarter, as U.S. tariffs started to bite into China's exports and production and the effects of supportive monetary and fiscal measures have yet to show up.

-- Chang Shu, Bloomberg Economics
That would be the slowest quarterly expansion in almost a decade. The economy expanded 6.7 percent in the second quarter, and is seen hitting 6.6 percent -- just above the government's target -- for this full year before slowing more sharply in 2019.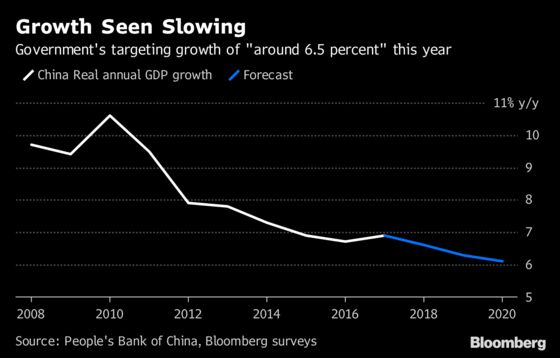 Economists see retail sales growth flat from the previous month at 9 percent year-on-year, industrial production edging down to 6 percent from 6.1 percent, and fixed-asset investment for the first three quarters flat-lining at 5.3 percent over the same period a year earlier.
Trump imposed 10 percent tariffs on a further $200 billion of Chinese products last month, including on furniture, and said those could rise to 25 percent from January. He'd already imposed 25 percent tariffs on $50 billion worth of goods. China has retaliated and Trump's threatened to levy duties on all China's exports.
The U.S. government opened another front in its campaign to change the economic relationship with China on Thursday, announcing plans to withdraw from a postal treaty that the administration argues gives Chinese companies an unfair advantage over U.S. firms. While the U.S. might not leave the treaty if it can force a renegotiation, the action is likely to hurt Chinese companies by raising costs for shipping to the U.S. via the postal service.
The domestic slowdown and that rising external pressure is prompting Guangdong manufacturers to gird for a more difficult 2019.
Domestic furniture supplier Baker Perfect in Dongguan is facing tougher competition, with exporters turning to the domestic market just as it feels "a chill wind" from the slowing economy, says founder Li Shuiqing. The furniture industry is delaying expansion plans and refraining from new investment, he says.
"But it's not a matter of survival, it's just getting through a rough patch," says Li, 37. "It's about keeping money safe in bank deposits rather than investing in stocks or property. During difficult times you will be conservative, not expand or invest as much."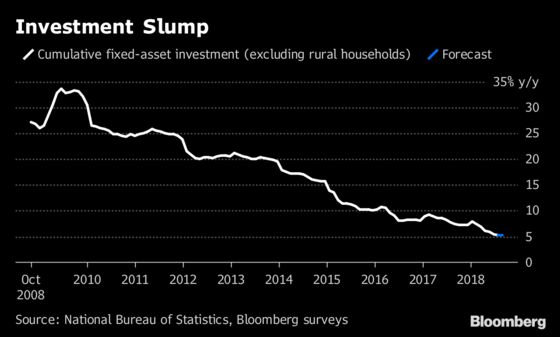 There likely is worse to come. For the whole year, investment growth is seen slowing to 6.5 percent and to 6 percent in 2019, according to Bloomberg surveys.
That's despite support measures being rolled out by the government that have included tax cuts, increased infrastructure spending, a recent cut in the required reserve ratio for banks, and faster bond issuance by local governments.
Guangdong's government also announced in early September a slew of measures to help manufacturers, including tax cuts, reduced costs for land use, reductions in power and transportation charges, social security fees and financing costs.
In contrast to the robust exports this year, a gauge of new export orders based on a survey of manufacturing purchasing managers that the government published late last month fell to its lowest level in two years. That indicator tends to lead the official data on exports, and might indicate a coming slowdown, says Betty Wang, a senior economist at Australia and New Zealand Banking Group Ltd in Hong Kong.
Nevertheless, underpinning the confidence of Guangdong companies to ride out the storm is the dominance of China's supply chain. Furniture, electronic components, appliances, and networking gear are among the products hit by tariffs where the U.S. relies most heavily on China, according to Panjiva Inc., a unit of S&P Global Market Intelligence that specializes in supply chain data and analysis.
"Supply chains are sticky, with China the hub of choice because of its scale, speed of delivery and also closeness to the Chinese market itself," said James Laurenceson, deputy director of the Australia-China Relations Institute at the University of Technology in Sydney. "I don't see U.S. tariffs, even at 25 percent, upending that proposition."
Shenzhen Garlant Technology Development Co. makes products including mobile phones and their accessories and does about a fifth of its $150 million in annual sales with the U.S. Founder Andy Yu, 39, has added Trump's 10 percent tariffs onto the prices of his products and says he'll do the same again with 25 percent tariffs in January even though U.S. sales declined 20 percent this year.
"The pain is short term," said Yu. "We can adjust our sales strategy, and expand our businesses in Southeast Asia, Africa and Latin America. That can easily make up the loss."
--With assistance from Yinan Zhao.
To contact Bloomberg News staff for this story: Kevin Hamlin in Beijing at khamlin@bloomberg.net;Miao Han in Beijing at mhan22@bloomberg.net
To contact the editors responsible for this story: Jeffrey Black at jblack25@bloomberg.net, James Mayger
With assistance from Editorial Board
Get Your
Daily Newsletter
Get market moving news, top news & compelling perspectives
---