China Cements Fresh Burkina Faso Ties With Hospital, Highway
(Bloomberg) -- Months after severing ties with Taiwan, Burkina Faso says it's counting on Chinese money to get large infrastructure projects off the ground, including a key highway linking the West African nation's two main cities.
Burkina Faso broke off diplomatic relations with Taipei in May in favor of China, leaving the tiny kingdom of Swaziland as the island's last African ally and cutting the number of countries that recognize Taiwan to 18. The decision came after the government looked at what countries with resources similar to those of Burkina Faso were able to do with Chinese backing, Foreign Minister Alpha Barry said in an interview.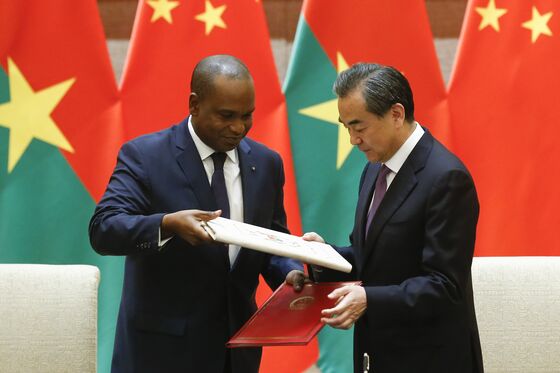 "We thought it better to leave," Barry said. "China offers opportunities to achieve our projects, and Chinese companies are among the best in the world."
With the announcement that China would better serve its interests, Burkina Faso reneged on an earlier pledge to remain loyal to Taiwan it made shortly after the cash-strapped island nation of Sao Tome and Principe changed sides. China, which considers Taiwan a breakaway province, won't have diplomatic relations with countries that recognize Taiwan as a separate nation.
China immediately said it will build a $140 million hospital and has already opened its embassy in Burkina Faso. Today, China Harbour Engineering Co. is negotiating a concessional loan from the Export-Import Bank of China to build a new highway spanning more than 300 kilometers (186 miles) between the capital, Ouagadougou, and the country's second-biggest city, Bobo-Dioulasso. The project that's to start in January and should eventually reach the border with Ivory Coast is estimated to cost $1.3 billion, according to Barry.
The $12 billion economy of the landlocked country depends heavily on cotton and gold exports. The government hopes that Chinese companies will invest in energy, mining and education and talks about some projects are underway, Barry said, without giving further details. "The railway to Ghana is one of our priorities but like some other plans, that's for the longer term," he said.
Burkina Faso first began to have doubts about its 24-year relationship with Taiwan when a request for 20 million euros ($23 million) to fund five projects was refused in 2016. Barry traveled to Taipei to discuss the request with President Tsai Ing-wen, but the talks didn't result in additional financing. Taiwan released a total of $525 million in grants and loans to Burkina Faso between 1994 and 2018, he said.
China has pledged to make $24.4 million available annually to keep the projects afloat that were started by Taiwan, and Burkinabe students who are enrolled in Taiwanese universities will be transferred to institutions in Hong Kong, Barry said.
Agreements for other projects may be signed during President Roch Marc Christian Kabore's state visit to Beijing ahead of the China-Africa summit in September, he said.
To contact the reporter on this story: Simon Gongo in Ouagadougou at sgongo@bloomberg.net
To contact the editors responsible for this story: Karl Maier at kmaier2@bloomberg.net, Pauline Bax, Andre Janse van Vuuren