Weaker China Adds to Risks of a Synchronized Global Slowdown
China's manufacturing purchasing managers index fell to 50.2 this month from 50.8 in September, missing the median prediction.
(Bloomberg) -- China's manufacturing sector worsened in October as the trade war hit home, adding to risks the global economy may be edging toward a synchronized slowdown.
China's official factory gauge missed estimates with a reading of 50.2 and its exports sub-index slumped to the lowest reading since early 2016. In other data released Wednesday, Industrial output for September in South Korea and Japan came in below estimates, as did third quarter output in Taiwan.
With Euro-area economic data disappointing and emerging markets rattled by tumbling currencies and an exodus of capital, the world is increasingly looking to a turbocharged U.S. economy to drive global expansion alone. Yet the U.S. boom is also expected to moderate next year as the effect of tax cuts wane, and trade tariffs and a strong dollar drag on growth.
"Outside the U.S., the list of indicators showing synchronous slowing growth is getting longer," said Rob Subbaraman, head of emerging markets economics at Nomura Holdings Inc. in Singapore. "Ultimately, weaker growth outside the U.S. and financial market turmoil could spill back enough for the Fed to pause."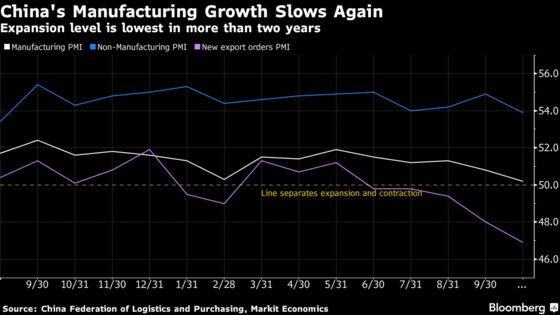 Most sub-indexes in China's official manufacturing purchasing managers index declined from September, indicating that the slowdown was widespread. The non-manufacturing PMI, which reflects activity in the construction and services sectors, also worsened to 53.9 from September's 54.9 reading.
China's government is balancing competing forces, attempting to support growth while also striving to slow the buildup of debt. Domestic economic growth is decelerating, the stock market is down, and while exports are still strong for now they are expected to slow as higher U.S. tariffs kick in.
A raft of measures were introduced this month to stabilize sentiment, adding to steps to boost liquidity in the financial system, tax deductions for households and targeted measures aimed at helping exporters. Those measures have yet to have much impact, and the export orders gauge signals the economy will see more downward pressure in the months to come.
"China is heading for a New Year's trade cliff, as exporters rush U.S. shipments to get ahead of the tariffs," said David Loevinger, a former China specialist at the U.S. Treasury and now an analyst at fund manager TCW Group Inc. in Los Angeles. "The problem is as the U.S. slows, there's no one to pass the baton to."
South Korea's industrial output tumbled a larger-than-expected 8.4 percent in September from a year earlier, the most in nine years. While some of that was due to the timing of holidays, the sputtering output adds to concerns about the economy losing steam.
Japan's factory output also declined last month after a series of natural disasters, but the weakness clouds forecasts for third-quarter economic growth. Production is projected to rebound in October before slipping again in November.
Taiwan's economy, which is closely linked to China's global supply chain, grew 2.28 percent in the third quarter, below forecasts and at the slowest pace in more than a year.
The run of Asia data came a day after news that the euro-area unexpectedly grew at its weakest in more than four years in the third quarter with Germany and Italy grinding to a halt.
For now though, the U.S. is in good shape with data on Tuesday showing consumer confidence hitting an 18-year high after its economy expanded at a 3.5 percent pace in the third quarter, marking the best back to back quarters of expansion since 2014.
The International Monetary Fund earlier this month cut its global growth forecast for the first time in two years, blaming escalating trade tensions and stresses in emerging markets. World GDP would fall further should Trump follow through on all his trade threats, including global duties on cars, it said.
A set of early indicators on China's economy compiled by Bloomberg Economics prior to the official PMI report suggested that sentiment among executives and investors continued to deteriorate in October.
On Tuesday, the currency slid to its lowest level against the U.S. dollar in more than a decade following a report that U.S. President Donald Trump plans to expand tariffs to cover the full range of imports from China if he is unable to extract concessions from President Xi Jinping during a Group of 20 summit of world leaders in Argentina at the end of November.
The yuan traded onshore at 6.9715 per dollar at 3:58 p.m. in Shanghai Wednesday. The benchmark stock index rose for a second day but ended the month down almost 8 percent.
Top officials including Xi have sought to bolster investor confidence, commenting on the fundamental strength of the economy and attempting to talk up the stock market, which has fallen about 8 percent this month.
"It's important to keep China's deceleration in perspective," said Frederic Neumann, co-head of Asian economics research at HSBC Holdings Plc in Hong Kong. "While growth is slowing the latest numbers suggest that the manufacturing sector continues to expand. Therefore, policy support will likely remain incremental and targeted, not the big, sudden jolt that investors may expect."
--With assistance from Miao Han, Yinan Zhao and Matthew Boesler.
To contact Bloomberg News staff for this story: Kevin Hamlin in Beijing at khamlin@bloomberg.net
To contact the editors responsible for this story: Malcolm Scott at mscott23@bloomberg.net, Jeffrey Black, James Mayger
With assistance from Editorial Board