China's Export Growth Slows as Global Risks Cloud Outlook
China's export growth slowed in July, adding to concerns the economy's recovery will face fresh pressure in the second half of the year.
Exports grew 19.3% in dollar terms in July from a year earlier, while imports rose 28.1%, the customs administration said Saturday. That left a trade surplus of $56.58 billion for the month. Economists had forecast that exports would increase by 20% while imports would climb 33.3%.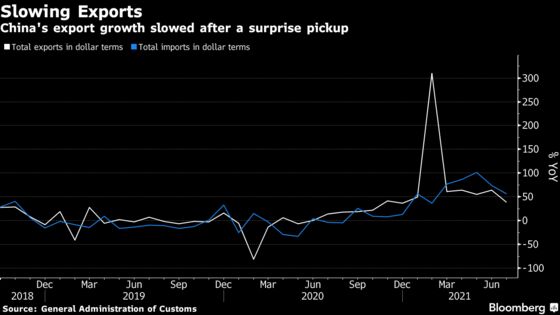 China's exports remained resilient in the first half, with the gradual easing of lockdown measures around the world helping to support global demand. Trade risks have increased in recent months though as the delta variant spreads across Asia, threatening to snarl supply chains across the region.
The latest purchasing managers surveys show a contraction in manufacturers' export orders for a third consecutive month in July. Officials have also warned of a slowdown in trade growth in the second half, with a higher base of comparison from a year ago also a likely factor.
"Leading indicators suggest export may weaken in coming months," said Zhang Zhiwei, chief economist at Pinpoint Asset Management. "Exports and the Covid outbreak are the main sources of uncertainty in China for the next few months."
ASEAN was China's biggest trading partner in July, followed by the Europe Union and the U.S., data from the customs authority showed. China's exports to the U.S. grew 13.4% in July from a year ago, while imports from America rose 25.6%, leaving a trade surplus of $35.4 billion in the month.
Growth in imports remained robust, supported by the ongoing recovery in domestic demand and high commodity prices. Imports of commodities including iron ore, crude oil and steel grew in value in the first seven months of the year, but dropped in volume during the same period. Purchases of 25 aircraft in July also helped to support import growth.
In the face of rising growth risks, China's top leaders have signaled more targeted support for the economy. Authorities will likely take more steps to help struggling small businesses, boost fiscal spending and possibly reduce the reserve requirement ratio for banks again, economists said after a meeting of the Chinese Communist Party's elite Politburo chaired by President Xi Jinping last month.
With assistance from Bloomberg